REVIEW
After 15 years of earning his culinary bona fides downtown in the deli that showcases his incomparable smoked fish and meats, Eric Goerdt, with his wife Lynn, felt it was time to sit at the grownups table. The result is Northern Waters Restaurant, up in the Chester Park neighborhood close to the University of Minnesota Duluth.
The modest strip mall storefront disguises what turns out to be a very stylish yet casual restaurant, one which features many of the products available at the Smokehaus yet ranges well beyond smoked fish and sandwiches. Sure, some of the sandwich favorites from the Smokehaus menu, like the Cajun Finn and the Sitka Sushi, can be found here as well, and they offer a Smoked Fish Plate and a Haus Platter for those who want to relive the glories of Eric's smoker (who could blame them?).
Unlike at the Smokehaus, however, you'll find such real "restaurant" food as Pork Belly Polenta ("crisped Berkshire pork belly on a fried polenta cake served with a soft-cooked egg & green chile sauce") and Northern Risotto ("with crimini and shitake mushrooms, plus crisp grilled asparagus").
We particularly loved a shared appetizer called Northshorebrod, the Goerdts' local take on the Danish open-faced mini-sandwiches known as smørrebrød. The pair of sandwiches is built around Eric's elegant gin-infused Wild Alaskan King salmon gravlax. Every detail is executed flawlessly and presented beautifully, from the buttered pumpernickel to the little garnish of lightly pickled cucumber and carrot and the dish of chive-topped potato salad.
There's always a sandwich available made with one of Lake Superior's finest: we feasted on a magnificently drippy whitefish sandwich garnished with sprouts and red, ripe tomatoes that would make a Louisiana po-boy chef proud.
Looking for something sweet before you leave? They make their own ice cream and you can't do better than a dish of lightly sweetened peanut butter ice cream garnished with a handful of crunchy peanuts.
Prices are not low by local standards — shared appetizers and sandwiches run about $15-20, entrees $20-26, 2017 prices — but if you are from one of the big coastal cities they won't raise an eyebrow and, besides, a meal here is worth every penny.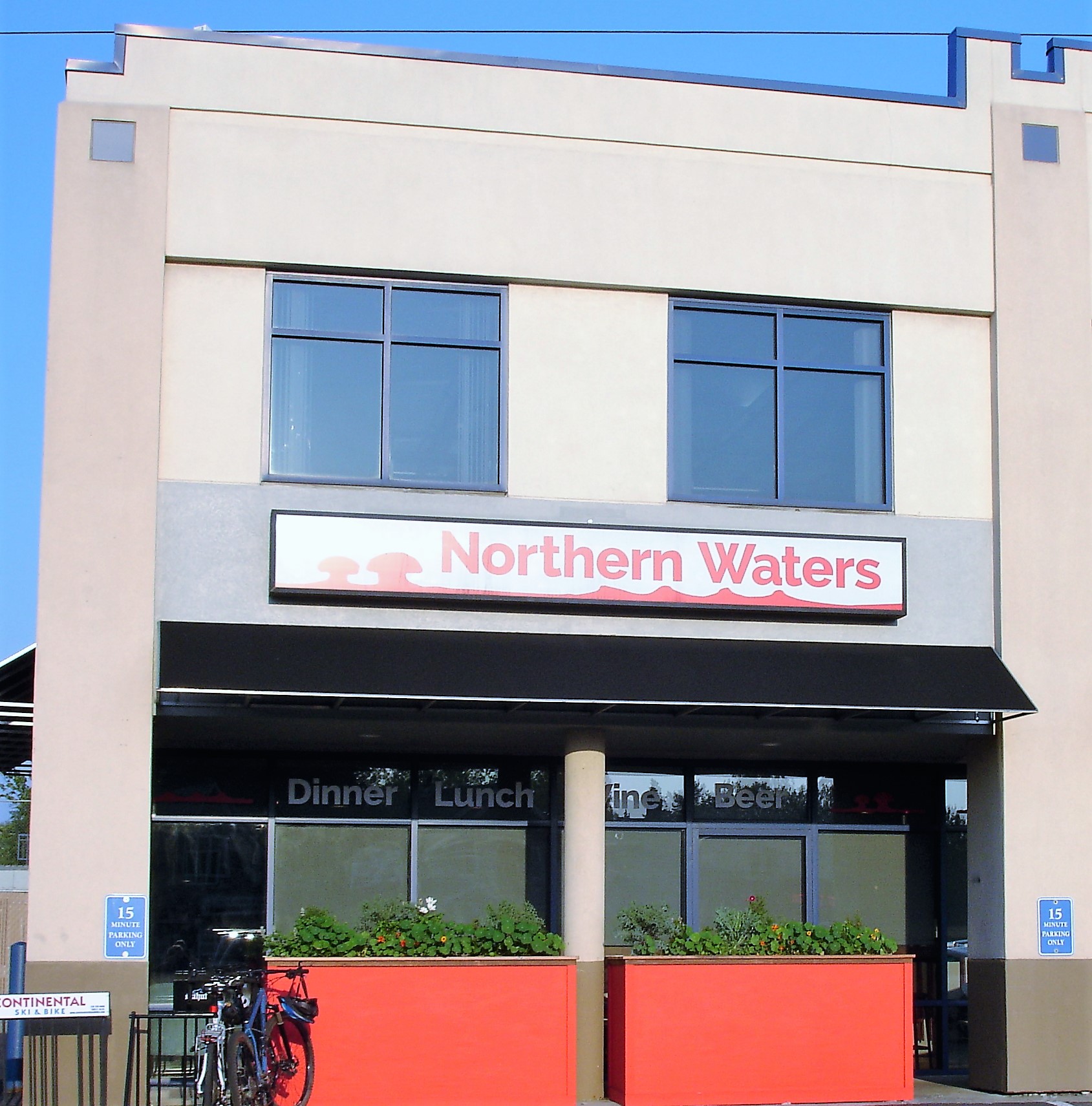 1608 Woodland Avenue Duluth MN 55803 218-249-1957
Northern Waters Restaurant's Website
Northern Waters Restaurant on Facebook
LAF TRAK: 
FOOD: 
BEST THING TO EAT: Northshorebrod