REVIEW
Like many other folks who visit Vermont, we like to stay in inns and B&Bs. That presents a major obstacle to dining at places like Up for Breakfast, which really only serves breakfast. It stays open until 12:30 p.m. during the week and 1:30 p.m. on weekends, so your best bet if you want to enjoy both your inn breakfast and Up for Breakfast is to try to hit the restaurant on the weekend. Have an early breakfast at the inn, then plan for a second, lunchtime breakfast here. But weekends are also the busiest time for the upstairs eatery, so put your name on the waiting list about an hour before you'd like to dine.
Is Up for Breakfast worth all this fussing and maneuvering? Yes, it is! This is one of those only-for-tourists (because what local is going to wait an hour for breakfast?) restaurants that is far better than it has to be. There's real thought and care in the creation of these breakfast dishes, from the Morning Glory Pancakes laced with cinnamon, coconut, raisins, pineapple, carrots, apples, and nuts, to Lingonberry Pain Perdu, which starts with a sliced sourdough batard, stuffs the slices with warm lingonberry cream cheese, and turns it into French toast.
Pancakes, a highlight here, are of course served with the local elixir known as maple syrup (available by the jug to go). Perhaps our favorite pancakes at Up for Breakfast are the very thin, crepe-like sourdough pancakes with the crisp edges. That sourdough tang marries beautifully with the sweet syrup.
The specials menu is even more ambitious. One weekend morning saw lobster and crab cakes on a grilled croissant with fresh asparagus, poached eggs, dill hollandaise, and fresh fruit, or pumpkin cranberry walnut buttermilk pancakes. They offered special sausages too: buffalo with chipotle chilies or wild boar with cranberries. We loved a special of Venison Benedict, which tops grilled corn bread with their venison sausage patties, tops that with Portobello mushroom and red onion, then tops THAT with poached eggs and roasted red pepper hollandaise.
Accommodations in the sunny L-shaped room are very small and very tight; claustrophobes, consider yourselves forewarned. Even with the cramped quarters and, always, every seat taken, the hustling staff here remains in good spirits.
4935 Main Street Manchester Center VT 05255 802-362-4204
Up for Breakfast on Facebook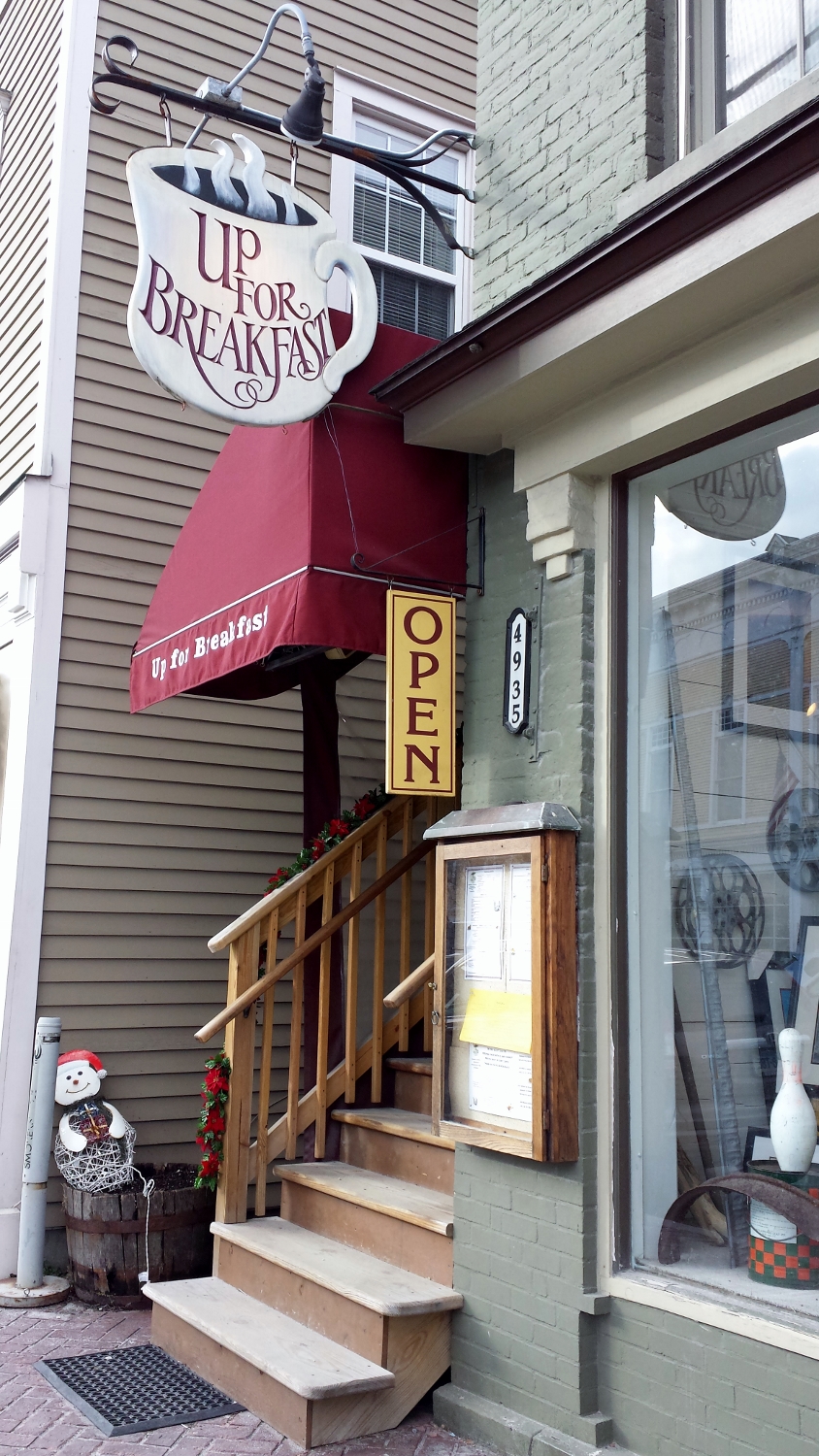 LAF TRAK: 
FOOD: 
BEST THING TO EAT: Corned beef hash