A Morning Menu of LAF-Style Food News and Stories to Begin Your Day
HAPPY NATIONAL CARROT CAKE DAY!
Some Love for Arthur Bryant's
It had become de rigueur over the last couple of decades for self-described barbecue experts to score some legitimacy points by bashing Arthur Bryant's of Kansas City. The tide may finally be turning, as positive comments have been creeping into food stories over the past year. Now comes this story from the KCFoodGuys, proclaiming Arthur Bryant's as the perfect antidote to "yuppie barbecue." In fact, they go so far as to "declare Arthur Bryant's the most satisfying BBQ in Kansas City. Arthur Bryant's is good BBQ and has amazing sauce. Arthur Bryant's is for locals." The gauntlet has been thrown down.
Blondie Joins Dagwood at Sycamore
The signature burger at the '50s-themed (and open since 1948) Sycamore Drive-In in Bethel, Connecticut is the Dagwood: that's five ounces of freshly ground beef topped with American cheese, mustard, ketchup, pickle, onion, tomato, lettuce, and mayo. Now the Sycamore has finally added Blondie to the menu: the burger is garnished with pepper jack, bacon, jalapenos, lettuce, tomato, and chipotle mayo. Whether we're having a Dagwood, Blondie, or any of their other "French Style Steakburgers" (and, no, we don't know what that means) we love how the burgers achieve a crisp, lacy edge during their time on the hot flat top.
Galatoire's Homeless Line Placeholders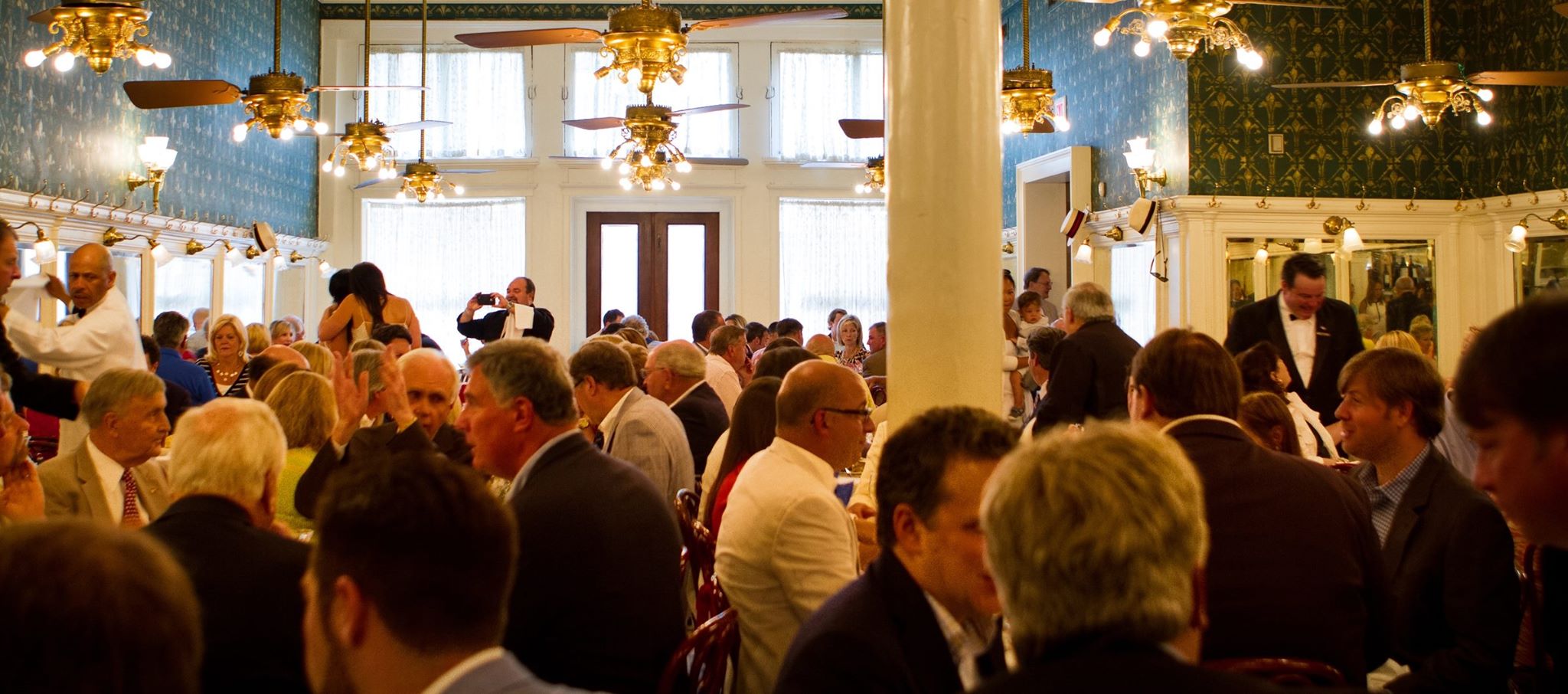 Friday lunches at Galatoire's in New Orleans' French Quarter are a hot ticket. So hot, in fact, that many of the well-to-do locals who fill the downstairs, no-reservations, dining room during Friday lunches pay the homeless one hundred dollars to stand in line for them, for a table. That lunch line may begin in the wee hours of the before-sunrise morning. It's a practice with some measure of controversy. Read more about the homeless line placeholders and Friday lunches at Galatoire's in The Daily Beast.
Clifton's Cafeteria of LA Making Progress
Los Angeles' historic 1932 landmark, Clifton's Cafeteria, closed in 2011 for major renovations. The painstaking work has crept along ever since, but this past weekend, a tangible sign of progress appeared, as a brand new retro neon sign was attached to the façade and lit for the first time. Still no word on when they hope to reopen.