A Morning Menu of LAF-Style Food News and Stories to Begin Your Day
HAPPY NATIONAL PEANUT BUTTER LOVER'S DAY!
A Closer Look at Beard Honoree Guelaguetza of LA
The Los Angeles Times takes a closer look at Guelaguetza, which just won an America's Classics award from the James Beard Foundation. Bricia Lopez, daughter of the founders, now runs the restaurant with her siblings. Said Bricia, "It's just an overwhelming feeling of happiness." She's tried to convey the significance of the award to her father, who has retired to Mexico: "I told him, 'Dad, it's like if you were an actor and you won an Oscar, that's how big it is.' But he still doesn't really understand." The Times story also links to Jonathan Gold's original 1994 rave review of the restaurant. It all makes for a good read!
More Details on Gus's Fried Chicken Atlanta Arrival
We learned a couple of weeks ago that Gus's World Famous Fried Chicken of Nashville, TN planned to go national this year. One of their destinations is Atlanta. We've just learned the location of that impending Gus's: 231 Peachtree Street, downtown in the Peachtree Center. It should open sometime this year.
Graeter's Seasonal Flavor Made with Kentucky Bourbon
Graeter's, in case you are not familiar with it, is based in Cincinnati, and is one of America's great regional ice creams. Cincinnati sits on the Ohio border with Kentucky, and the Kentucky Graeter's stores have long featured bourbon ball ice cream, made with the local elixir. They were able to pull that one off because Kentucky is lenient when it comes to alcohol in foods. Taking inspiration from their Kentucky franchisee, Graeter's is producing a new limited edition seasonal flavor, also made with bourbon, but with most of the alcohol cooked out first.
The flavor, Bourbon Pecan Chocolate Chip, will be available in and around the Cincinnati area. What we're not sure of, but will soon discover for ourselves, is whether the far-flung outposts that carry Graeter's (there's a supermarket not terribly far from us), will also carry the seasonal flavor. We hope so. It sounds wonderful!
Fine Italian Disguised as a Diner in Katonah NY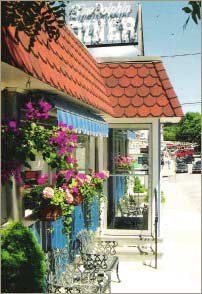 Rob Petrone of FiOS1 News visits the Blue Dolphin Ristorante of Katonah, NY, a fine Italian restaurant doing business within a 1930s-era Kullman diner. Mind you, this is not a diner with an Italian focus. You won't find club sandwiches and the Happy Waitress on its menu. The Blue Dolphin is a true Italian restaurant, one that specializes in its own homemade pasta made in town at their retail pasta shop, Katonah Pasta. Watch the seven-minute video here.