REVIEW
We'd heard good things about the ice cream at Buttonwood Farm, but it was a dreary, drizzly evening as we motored through the rural Connecticut countryside. Surely we'd be their only customers when we arrived, if they were even still open. Perhaps on this most uninviting day for ice cream they decided to close up early. Turning in to Buttonwood from the country road, we were astonished to see an ice cream stand and parking lot bustling with activity. What were they all here for? Was there some sort of event we were unaware of?
No, it's just that everyone else already knew what we were about to discover for ourselves: Buttonwood Farm makes some of the best ice cream in Connecticut, or anywhere else for that matter. The texture is perfect, the flavors are clear and true, the servings are generous. We adore Grape-Nuts ice cream. Buttonwood's version is the finest example of this only-in-New-England flavor we've ever sampled. The cream itself, thick with the nubbly cereal, seems to be infused with its malty, wheaty flavor.
They make waffle cones and their own whipped cream (and we LOVE real whipped cream) but restraint got the better of us. Next time. There's so much more on the flavor roster we need to investigate, as well, including one of Sue's rarely seen favorites, orange pineapple.
Buttonwood  really is a farm, started in 1975, where, among other things, they raise dairy cattle, although they make no claim that the milk from those cattle is used in the ice cream. Besides the ice cream and dairy, they raise beef cattle, heritage pork, run a sawmill, and grow feed for the cattle and hay and silage for sale. One of their signature crops is the 14 acres of sunflowers they grow for viewing pleasure and sale, with 100% of the proceeds going to charity.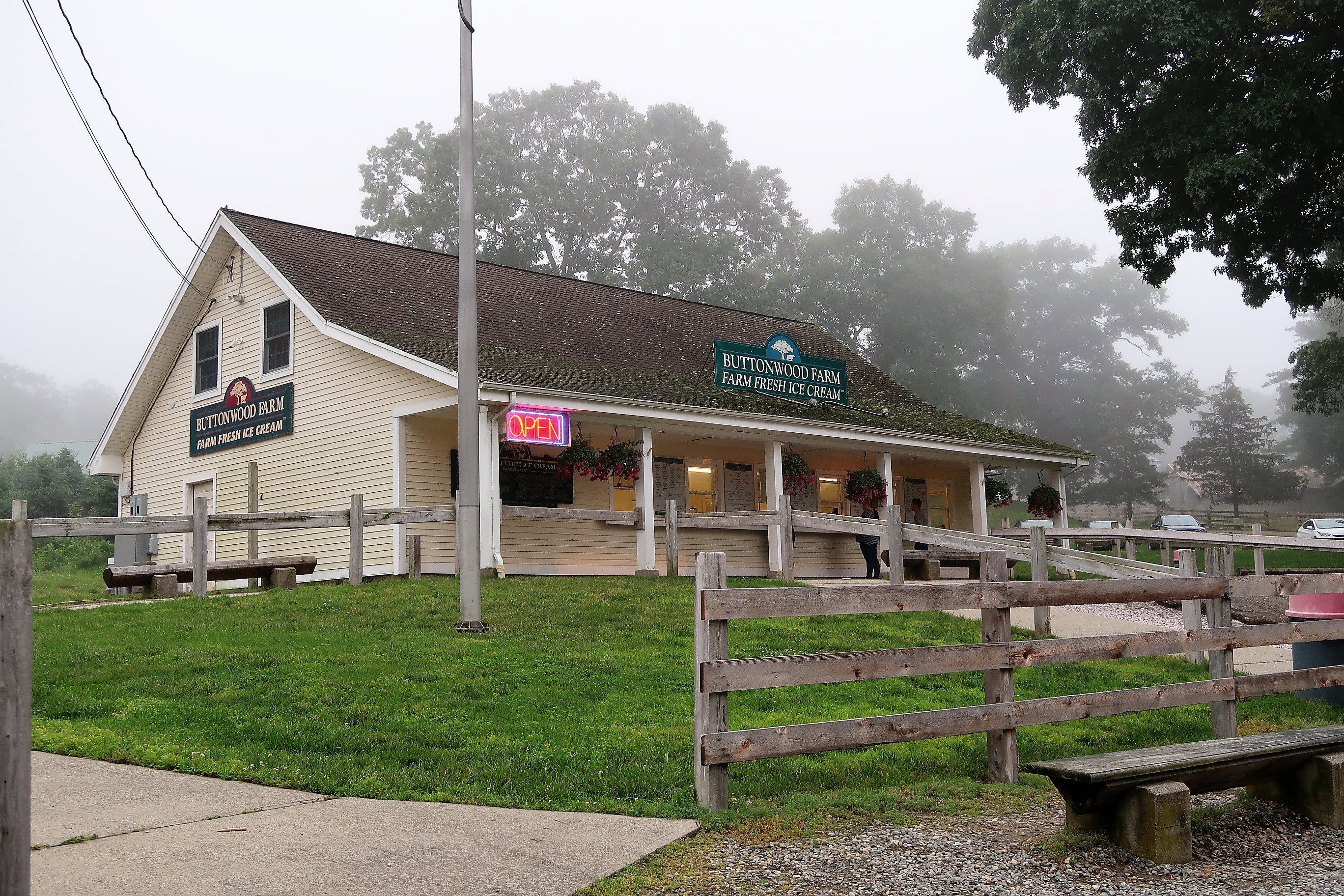 In autumn there are hayrides, pumpkin picking, a corn maze, and more. Add a teetering cone of homemade ice cream and you've got the makings of a perfect fall day!
473 Shetucket Turnpike Griswold CT 06351 860-376-4081
Buttonwood Farm's Website
Buttonwood Farm on Facebook
LAF TRAK: 
FOOD: 
BEST THING TO EAT: Grapenut Ice Cream