REVIEW
The Bozeman, Montana airport not only serves the college town of Bozeman, but is also a popular point of arrival for those planning a trip to Yellowstone. Bozeman is additionally, as far as we can tell, the only destination in Montana to which east coast residents can get a non-stop flight. Whatever the reason you find yourself at Bozeman Yellowstone International, we recommend the following course of action upon arrival: drive about 30 miles west (practically next door in Montana terms) to the tiny town of Willow Creek and dine in a 1910 saloon.
The Willow Creek Cafe & Saloon is the only restaurant in town. Once you find the town you'll find the sunny yellow restaurant. The building originally served as the Babcock Saloon for the local ranchers and miners. Since 1997, this old saloon has become one of the most popular restaurants in the state. As you are escorted to one of the ten oilcloth-covered wooden tables in the dining room, ask to have the bullet holes in the pressed tin ceiling pointed out. Once seated, you can admire the heads of deer and elk punctuating the country casual wallpapered dining room walls.
The don't-miss meal at the Saloon are the baby back ribs, in either a half or full rack. What makes these ribs unique, and draws fans in from hours around, is the sweet and slightly pungent mustard sauce glaze. It's different, and really very good. The ribs themselves are juicy with lots of crusty, charred edging. These might be the heftiest, meatiest baby backs you'll ever encounter. If you're tempted to order a full rack, as we did, figuring that baby backs are mostly bone, think again, unless you are counting on a robust late night snack. Not that we're complaining!
The other popular entrees at Willow Creek are the steaks, both regular (good) and chicken-fried (untried but gorgeous on our fellow diners' plates). The wife of the owner bakes the desserts. A scan of the blackboard menu, and the other tables, would have sucked us in easily except that 1) we were stuffed beyond redemption, and 2) "beyond redemption" wouldn't prevent us from having our first taste of Montana huckleberry, which made an appearance in the form of a ruby-colored sauce atop a cup of custard. Gentle and sublime.
A small, casual restaurant in the middle of nowhere, and that nowhere is also in the middle of nowhere – guess you can walk right in anytime for dinner, right? Nope. The Saloon does a hopping business. We definitely recommend you call in advance, perhaps even a couple of days ahead if you have your heart set on a visit and you'll be traveling some distance. Also note that online mapping and GPSs have a tendency to get the location wrong, placing you in the nearby town of Three Forks. Willow Creek is about six miles west.
21 North Main Street Willow Creek MT 59760 406-285-3698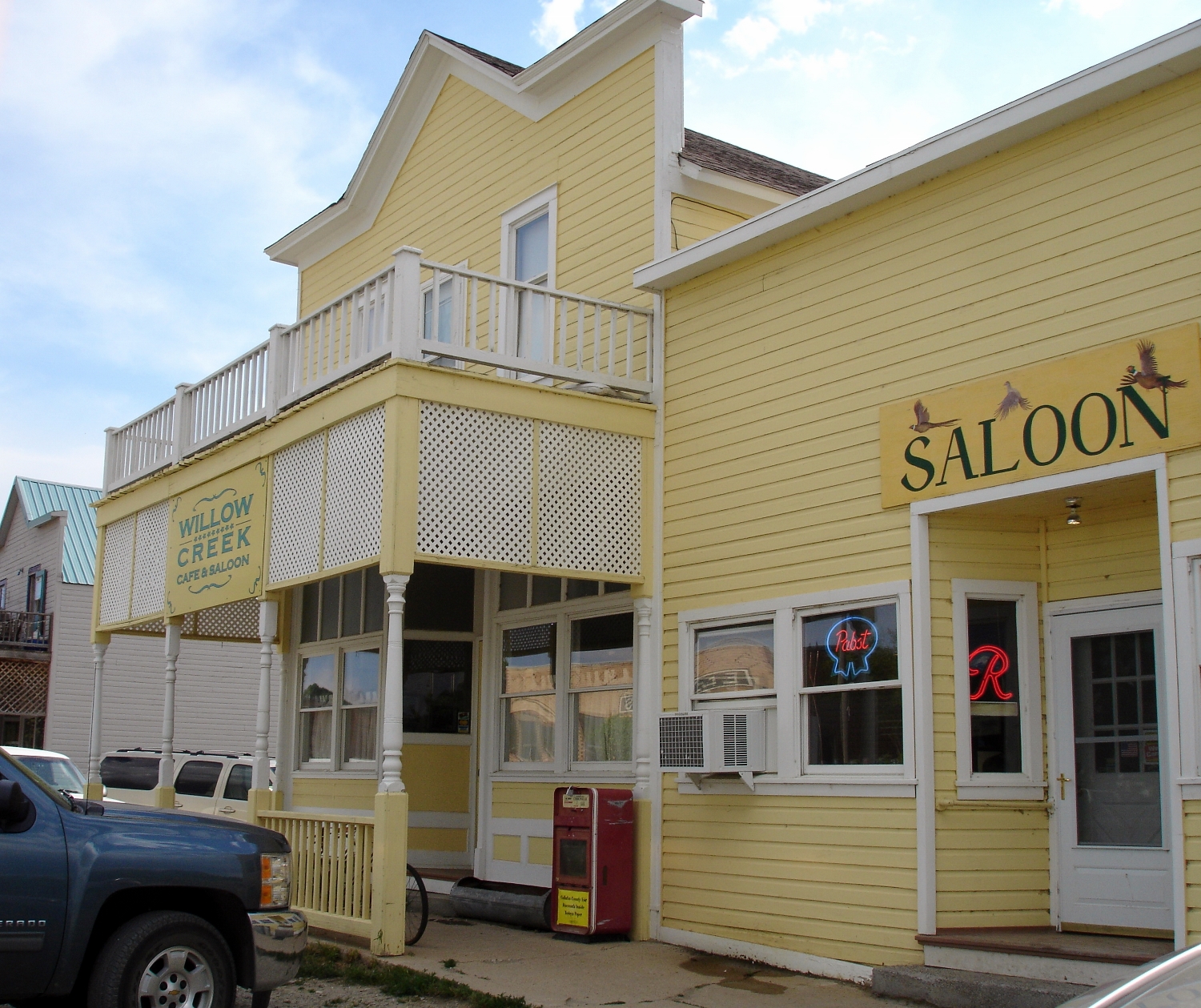 LAF TRAK: 
FOOD: 
BEST THING TO EAT: Ribs with mustard sauce