A Morning Menu of LAF-Style Food News and Stories to Begin Your Day
I Want Sauce in My Stocking
For your friends and family members who appreciate America's regional food favorites, or for those who have a desire to clear their sinuses, we like the idea of stuffing Christmas stockings with bottles of St. Elmo Cocktail Sauce. The St. Elmo Steak House of Indianapolis is so famed for the super-pungent condiment that the phrase World Famous St. Elmo Shrimp Cocktail is trademarked. They charge $9 a bottle, and if you buy five bottles, shipping is free. You supply the shrimp; use five jumbos to reproduce the St. Elmo dish. Order here.
Skaneateles by the Sea
Alright, Skaneateles (say skinny atlas) is not really by the sea but at the northern end of Skaneateles Lake, one of New York's Finger Lakes. If you judge by the freshness of the seafood served at Doug's Fish Fry, however, you could swear the creatures were pulled from the waters across the street. In fact, they come in five times a week from Boston. Dinah Lott, writing for the Finger Lakes Times, recounts her visit to Doug's. Needless to say, it's a big hit.
The Lou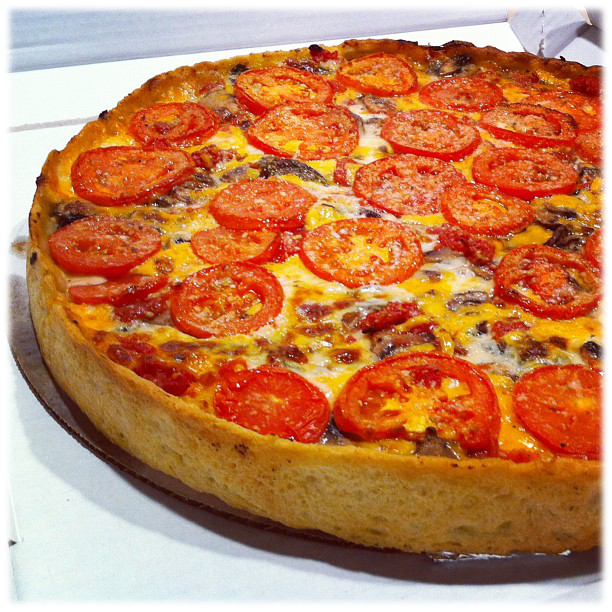 Spinach, mushrooms, sliced tomatoes… mozzarella, romano, cheddar… garlic Buttercrust… they call it The "Lou" (named after their founder) and it's served at Lou Malnati's in Chicago. Phil Vittel, restaurant reviewer for the Chicago Tribune, just discovered it, and fell in love.
Former Owner of Barksdale in Memphis Dies in House Fire
WMC Action News 5 – Memphis, Tennessee
In a macabre coincidence, less than two months after Bob Henry, owner of Memphis' old-time classic breakfast spot Barksdale Restaurant, passed away, Jerry Stamson, who previously owned Barksdale for decades, was killed yesterday in a house fire. We send our condolences to the Stamson family.