REVIEW
Have you ever spent time traveling in Italy? If so, you'll recognize Osteria Procaccini very quickly. This osteria is very much in the classic Italian mold, with a simple menu of thoughtfully constructed antipasti, panini, salads, and pizza, and a very casual, almost offhanded, demeanor. None of that would mean a thing if the food wasn't up to snuff. We're happy to report that the execution is as successful as the conception.
We recommend beginning with some antipasti. There's bruschetta topped with truffled honey and goat cheese or an olive tapenade, or a salumi assortment from Applegate Farms, based in Bridgewater NJ (Procaccini makes a point of sourcing local and organic products wherever possible). Or order the full-bore house antipasto, with meats, cheeses, and vegetables for three or four people. We are not ordinarily fans of chewy, raisiny marinated sun-dried tomatoes but the soft, gentle, and fruity specimens on the antipasto plate, scented with garlic, are superb. We could easily while away an afternoon nibbling on these antipasti with glasses of prosecco.
Pizzas, cooked in a terra cotta oven, are sized for one, as they are in Italy, though most folks will probably find them rather large. One concession to American custom: the pies are cut into wedges, acknowledging the reality that we are more likely to eat our pizza with our hands than a knife and fork. The crust is very thin, nicely blackened in spots. You'll find a selection of red and white set-piece pies. The one with clams can be had either way.
The Ruchetta e Prosciutto combines their fresh mozz with Parma prosciutto, shaved Parmigiano cheese, arugula, and a balsamic reduction. On the red side, the pie named Napolitana is subtitled "salty heaven." It's topped with anchovies, capers, kalamata olives, garlic, extra-virgin olive oil, and shaved Parmigiano. And you can't go wrong asking for the classic Margherita.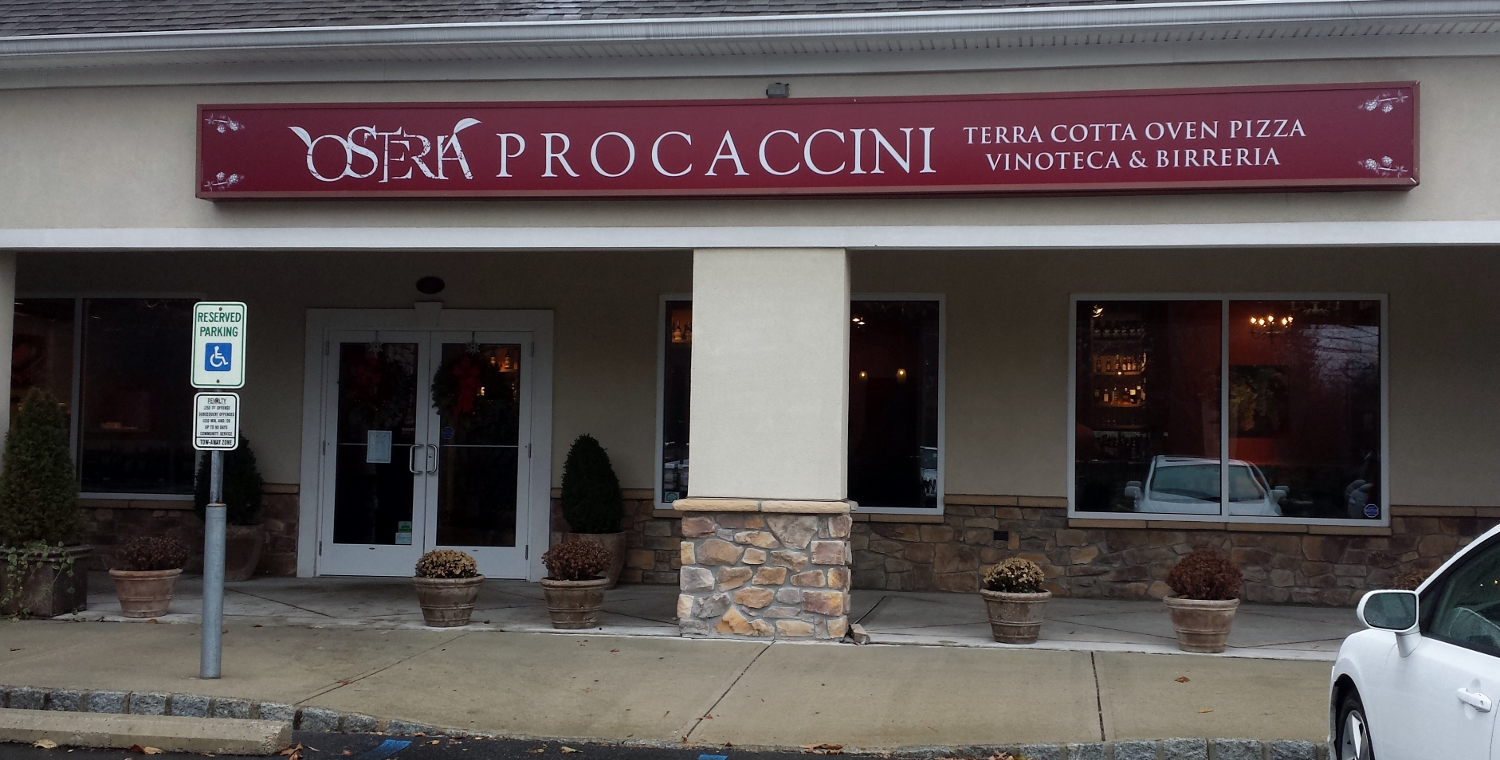 The panini, designed by someone who understands the importance of balance, both in texture and flavor, come on your choice of 7-grain or ciabatta bread. Both are good. We especially enjoyed the Gianluca which includes some juicy, milky tasting fresh mozzarella along with pesto and good prosciutto. If you enjoy burrata, that too-good-to-be-true mozzarella with the milky-creamy center, you can get yours in a salad atop diced plum tomatoes.
Osteria Procaccini is open for lunch and dinner every day except Sunday, when only dinner is served. We think it's perfectly suited for lunch.
7 Tree Farm Road Pennington NJ 08534 609-303-0625
Osteria Procaccini's Website
Osteria Procaccini on Facebook
LAF TRAK: 
FOOD: 
BEST THING TO EAT: Gianluca panino