A Morning Menu of LAF-Style Food News and Stories to Begin Your Day
Where Sausage Is King in Ohio
Al's Quality Market in downtown Barberton, Ohio makes 16 kinds of sausage, 17 on weekends when they add brats. Owner Dennis Gray specializes in the foods of Eastern Europe, much of which you can sample at his next-door restaurant, Al's Corner Restaurant, which is neither run by an Al nor located on a corner. This year, both the market and the restaurant, which were in different spots in Barberton, have moved to the same building (in the middle of the block) at 151 2nd Street NW. Read more about the superb market and restaurant here.
A Taste Test from the Moosewood Cookbook
The original Moosewood Cookbook, written by Mollie Katzen, a former member of the collective at Ithaca, NY's seminal Moosewood Restaurant, 40 years ago, has just been reissued by its publisher. Alix Wall of the Jewish Daily Forward used the rerelease as an opportunity to cook a few selections from the book and try 'em out on a few guests. Read the results here.
Top 50 Fried Chicken Restaurants
Fried chicken is having its moment in America. Good examples, once requiring a trip down south or to America's heartland, can now be found from coast to coast and border to border. The Daily Meal has assembled a compendium of this nation's finest, from #50 Hill Country in New York City to #1 Gus's of Memphis. Read about them here.
More Info on Closing of Marty's Donut Land of Ipswich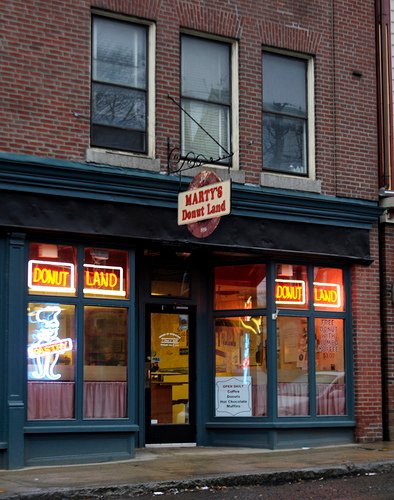 When we posted the information that Marty's Donut Land of Ipswich, MA had closed, we hadn't yet read anything about why it closed and the old-time donut shop's future, if any. Today we learned that owner Rich Cohen (Marty's son) sold the business for $265,000. The new owners currently own a Dunkin' Donuts in Ipswich. They say they don't know what they will do with the site, and that it was purchased as an investment. We'd say it's pretty clear, given those facts, that Marty's will not reopen.