REVIEW
If you are predisposed to steer clear of hipster restaurants try to get past that bias in the instance of Worthy Burger. Yes, it can be insanely crowded, but the provenance-tagged, locally sourced ingredients are impeccable,  the local brews are eminently quaffable, and the prices are downright low by big-city standards, which South Royalton, Vermont most assuredly is not. It may not seem like a town as small as South Royalton can have a wrong side of the tracks, but here it is. The location may be improbable but the 20- and 30-somethings have found Worthy Burger and made it theirs.
They call themselves a Craft Beer and Burger Bar. The burgers are grilled over Vermont hardwood. The buns would be worth eating by themselves. They all come with fresh lettuce leaves and sliced crisp red onion. The rest is up to you. Step up to the bar and place your order, while nervously eyeing the scene, skeptical of your chances of nabbing a table when your food is ready. First things first: get one of the 15 local brews on tap.
Now the decisions become harder. Do you want a single or a double? The burgers are a manageable six ounces. The quality of bun and garnishes suggests to us to go with a single and keep everything in balance. Or you can get chicken or fish, or something they call Turducky, which is a mixture of turkey and duck confit (is that turkey mixed with duck confit, or a confit of turkey and duck? We don't know.) They're all grilled on that wood fire. The meat picks up the scent of the fire, and a good crust from that fire's intense heat. This is clearly quality beef, with big flavor and plenty of juice.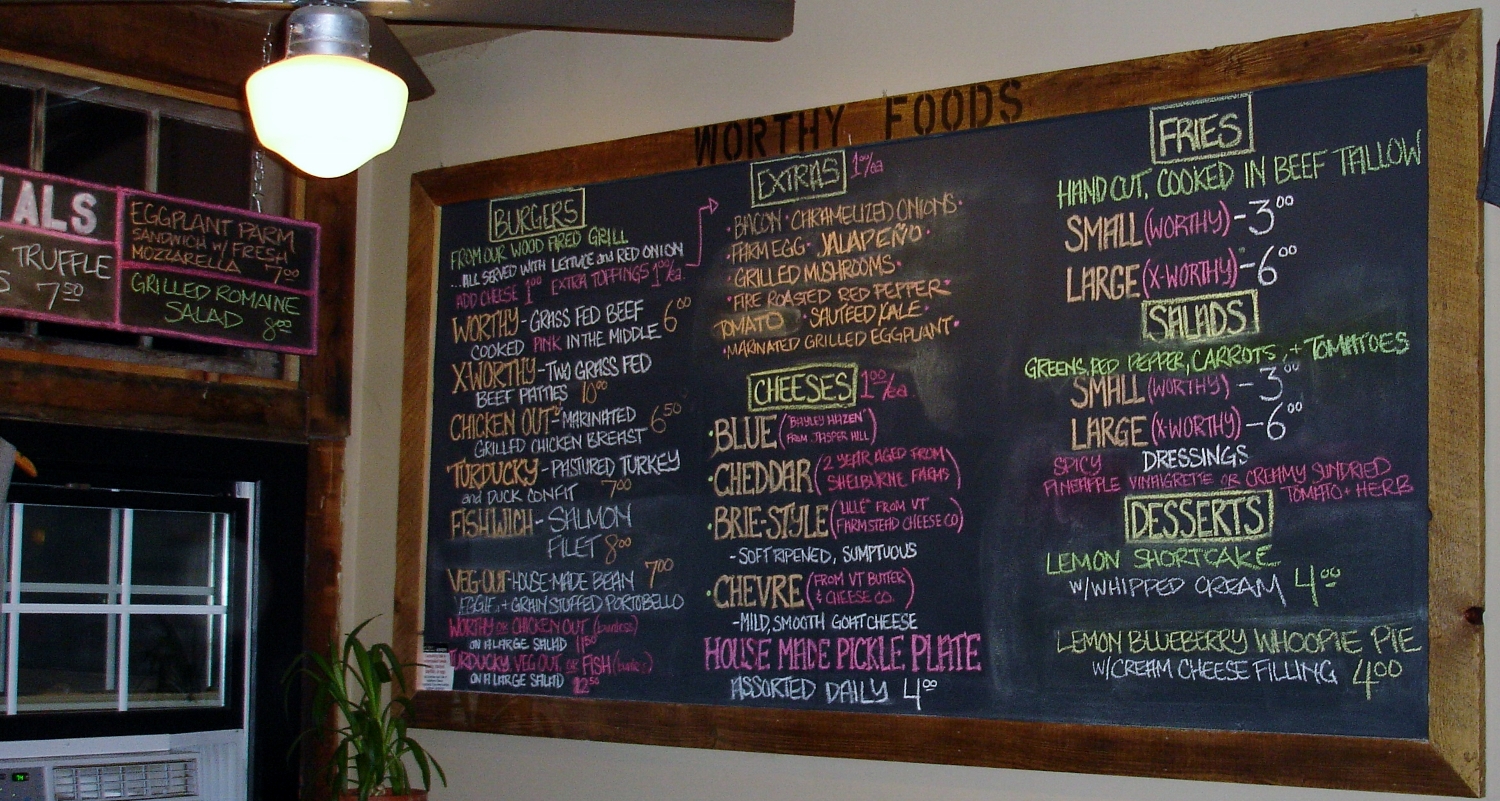 Cheese? One Sunday evening, options included a two-year Shelburne Farms cheddar, a soft-ripened cheese from Vermont Farmstead Cheese, a blue from Jasper Hill, and a goat cheese from VT Butter and Cheese! Garnishes? There are many options, plain and fancy, at a buck apiece: caramelized onions, good bacon, marinated grilled eggplant, fire-roasted peppers… An order of fries? Absolutely – these are some of the best fries we've had in quite a while, twice cooked in beef tallow and well salted.
That's almost the entire menu, except for some salads, a stray sandwich special or two, and dessert. We urge you to place an order for the house pickled vegetables. The assortment varies but they are sprightly and crisp and beautiful. Dessert one late summer night was a choice between lemon shortcake and a lemon blueberry whoopie pie (very nice!)
We especially enjoy the seating out on the patio, away from the bustle and tight squeezes indoors. Everyone, the people serving you and your fellow customers, are friendly, casual, and laid-back, despite the crowds and jumble of the setting. You'd be well-advised, if this is not already your natural state, to follow their lead, take a deep breath, relax, and have a good time too. Good beer, good burger, good fries – what more could you ask for?
56 Rainbow Street South Royalton, VT 05068 802-763-2575
Worthy Burger's Website
Worthy Burger on Facebook
LAF TRAK: 
FOOD: 
BEST THING TO EAT: Worthy burger