Soft-shell crabs were invented in Crisfield MD. Well, OK, they were invented by the crabs themselves but the harvesting and marketing of them as a food item began in the Chesapeake town. It's a very delicate process because, if left in the water, a crab's new shell begins to harden about two hours after shedding its old one. Frozen and cleaned soft-shells are, of course, available year-round but live ones, which are definitely superior, can be obtained only from late spring into early fall. As you might imagine, getting them from the water to the cook alive, and before a new shell has formed, is no small endeavor. Yet the process goes on because the creatures are so darned delicious (and strikingly easy to eat compared to their well-armored brethren).
Some of the freshest soft-shell crabs you will ever eat will be served this Sunday, May 29th, in Crisfield, at the 24th annual Soft Shell Spring Fair, hosted by the Crisfield Lions at the city dock. The preferred way to eat them at the fair is in a sandwich (last year a soft-shell sandwich ran $7). They are awfully good but we do have a piece of advice for squeamish soft-shell newbies: don't look too closely inside the crab as you eat it. Or just head right for the crab cake sandwiches, also available at the fair.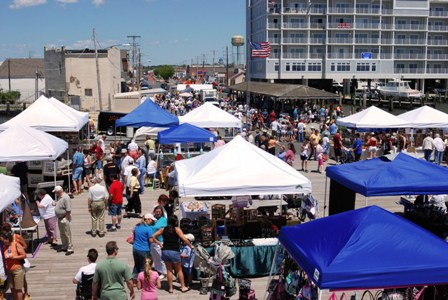 There'll be live music, arts and crafts, kids' activities, and games, as well as the Waterman's Hall of Fame awards. The fair runs from noon until 4 or 5 p.m. See the fair website for details.