The name of this festival is really for historical significance and atmospherics as you are not likely to find actual poke salat (or sallet) at this or any of the other poke sallet festivals held in Southern communities. What is poke salat? You may know it as pokeweed. It has been treated as a vegetable in the rural South, much more so in the past than today. Only the young leaves are eaten, and they must be boiled well – some say in several changes of water. The plant is considered poisonous, particularly the root, stems, and berries.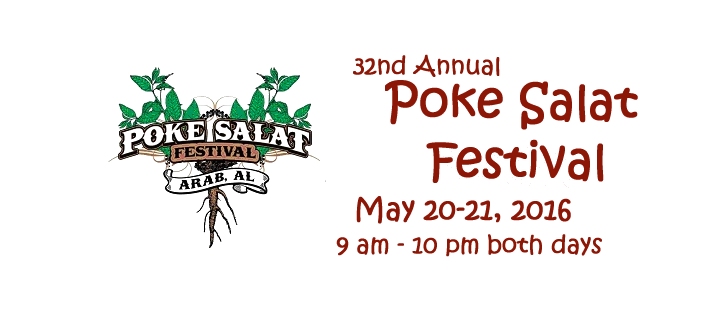 There are, however, plenty of people around who can attest to the edibility and deliciousness of poke salat prepared properly. We'd figure that no public festival in its right mind would chance serving it, but we understand that you CAN sample the vegetable at L'Rancho Cafe in town. And if we were there, we'd be first in line!
So if there's no poke salat what's there to eat at the 32nd annual Poke Salat Festival? There'll be barbecue and Cajun food, and plenty of festival vendors. The bands begin playing at 6:30 p.m. Friday and continue through the day Saturday on two stages. You can watch pottery making, basket weaving, and learn about beekeeping. There are fun runs, a pet parade, a mechanical bull, and a children's play area. And you can visit this city that sits atop Brindlee Mountain in northern Alabama, which was named after the son of the city's founding father. His name was Arad but the post office got it wrong! For more information, see the festival website.