REVIEW
"Which way EJ?" That's the question, perhaps apocryphal, Italian immigrants were said to have asked when they arrived at Ellis Island in the early 20th century. Word in Italy was that there was work to be found in Endicott, NY at Endicott-Johnson, the shoe manufacturer. By the start of the new millennium the company was gone but Little Italy, on the north side of Endicott, remains.
Open since 1930 or thereabouts, the Oaks Inn is more than a nostalgic remnant of a bygone era. It's perhaps the best Italian restaurant in The Triple Cities (the name for which Binghamton, Johnson City, and Endicott are known). In the early days, Paul and Theresa Cerasaro specialized in hot pies, the local name for pizza. Today's restaurant is still run by Cerasaro family, and it is said that they've changed very little about the physical space over the decades. The beautiful mahogany bar, brought in during the 1940s, remains, and dining here feels like stepping back in time to the era of Sidecars and supper clubs.
The menu offers most of the Italian-American classics you're familiar with, from scampis to saltimboccas, gnocchi to spaghetti and meatballs. Most entrees are accompanied by either angel hair pasta or homemade spaghetti – we recommend paying the small surcharge for the house-made stuff. They come in generous portions, well-sauced – you'll want to use some of the excellent Italian bread brought to you when you sat down (from Battaglini's across the street) to mop of the remnants of tomato or garlic butter. About that house red sauce: local Italian restaurants tend to serve very sweet tomato sauces. It's a local style that out-of-towners may find difficult to appreciate. Oaks Inn's red sauce bucks that trend, thankfully.
That super-fresh, crusty and moist-crumbed bread is served with a dish of seasoned oil, and you may find it more than enough to tide you over until your entrees arrive, but we recommend throwing caution to the wind and getting a dish of Utica greens to share. These are Italian greens, escarole (shkadole to Sopranos fans), juicy and well-seasoned, laced with bits of cured meat and a very un-Utica (but delicious) addition of caramelized onions, crowned with shredded cheese. The greens are accompanied by toasts – pile it on and try to consume with minimal drippage.
There is dessert but if you've done the menu justice you should have no interest. You might want to think about bringing home a few cannoli for later.
Oaks Inn is open for dinner only. Reservations are highly recommended, necessary for weekends. Be aware of the fairly steep set of stairs that you'll be required to navigate to get to the second floor restaurant.
122 Oak Hill Avenue Endicott NY 13760 607-748-2764 No website
Oaks Inn on Facebook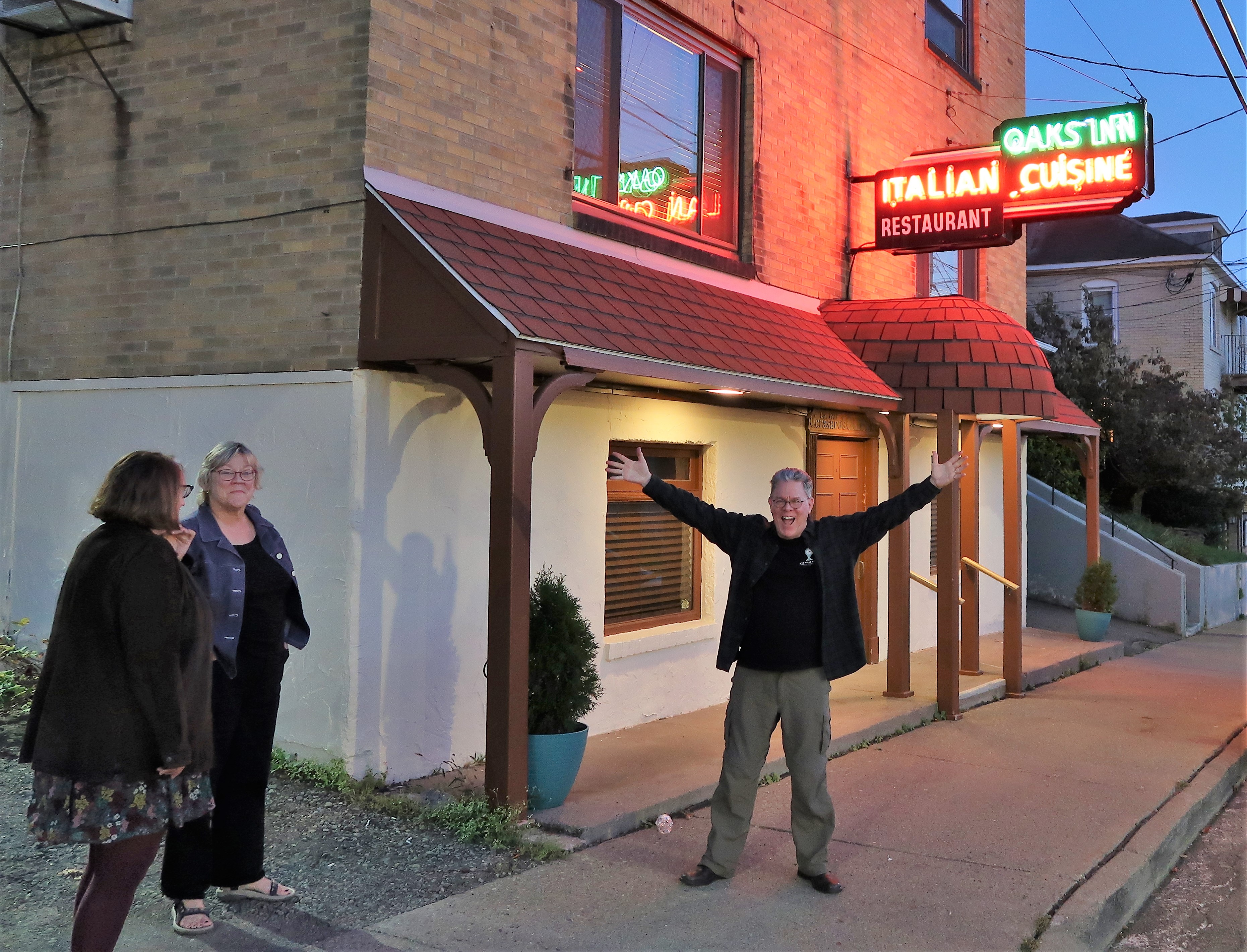 LAF TRAK: 
FOOD: 
BEST THING TO EAT: Utica greens