A Morning Menu of Stories We Think You'll Find Interesting
Smoked Turkey for Thanksgiving
If you plan to be in Memphis for Thanksgiving you might want to leave the turkey to one of the local barbecue shops. Many of them are offering smoked turkeys for Thanksgiving pickup. Check this story in the Memphis Commercial Appeal that runs down the Thanksgiving offerings at area restaurants. It's not all barbecue but those are the ones that interest us the most. The Bar-B-Q Shop is offering 12- to 14-pounders for $45.95. 12- to 14-pounders at Central BBQ are running for $39.99. Germantown Commissary's smoked turkeys will cost you $41.95 up to $69.95, depending on the size.
Shake Shack Watch
The seventh Manhattan Shake Shack opened yesterday, at 600 Third Avenue. The most fun part of these openings is checking out the new concretes designed for each new Shack. This one features: the East Slide, with vanilla custard, strawberry purée, cheesecake blondie, and banana; Murray Hill Malt, with chocolate custard, marshmallow sauce, malt powder, chocolate truffle cookie dough, and Mast Brothers cocoa nibs; and the Jitney, made with vanilla custard, peanut butter sauce, and Tate's chocolate chip cookies!
Is the $34 21 Burger the Best in NYC?
Charles Passy samples five hamburgers in New York City for the Wall Street Journal. After rejecting the burgers from Shake Shack, Ramen Burger (where the bun is pressed-together noodles!), and the Canadian import Big Smoke Burger, he gives a cautious thumbs up to the chopped beef sandwich from Donovan's Pub. The burger he chose as his favorite, the $34 21 Burger from the 21 Club, leads Mr. Passy to wonder: is New York really a burger town after all?
The Man Behind Cornell Dairy Bar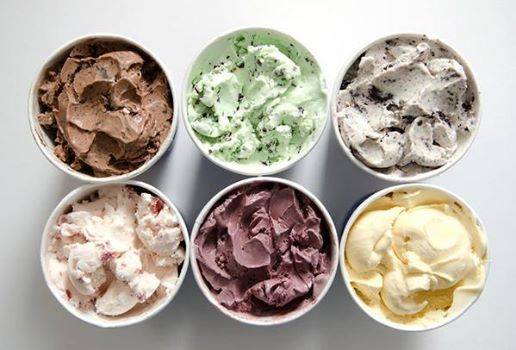 One of the side benefits of going to a college with an ag school is the chance to enjoy the school's ice cream (and, often, cheese) to your heart's content. Penn State's Peachy Paterno is legendary; we've got a can of Cougar Gold cheese (yes, a can) from Washington State aging in our fridge at this moment; and we've spent many an evening stopping by the old Cornell Dairy Bar for a cone. The Cornell Daily Sun presents a feature about Jason Huck, the man behind the Cornell Dairy.