A Morning Menu of LAF-Style Food News and Stories to Begin Your Day
HAPPY NATIONAL HOT TODDY DAY!
Memphis Pancake Battle: Arcade vs. Eclectic
The Commercial Appeal of Memphis pits the sweet potato pancakes from The Arcade against Pookie's Pancakes from Cafe Eclectic. Arcade's three cakes have more flavor than the four cakes from Eclectic, but the Eclectic offers real butter and, for an extra fee, real maple syrup, while Arcade uses the fake stuff. And Eclectic is more expensive. The winner? Eclectic's cakes, which they claim are more suited to everyday eating, while Arcade's pancakes are more of a once-in-a-while item.
Attman's Deli of Baltimore at 100
Harry Attman arrived in the U.S. from Russia in 1908, opening Attman's Deli (see the LAF review) in Baltimore on Corned Beef Row in 1915. This year marks the 100th anniversary for the deli that has remained in the Attman family for all those years. Today it's run by Harry's grandson Marc, who is also an optometrist. There's now a second location in Potomac, run by Marc's wife. Read the full story of Attman's in this piece that originally appeared in The Daily Record of Baltimore.
Louise A. McPartlan, Owner of McPartlan's Corner of Amherst NY, Has Died at 90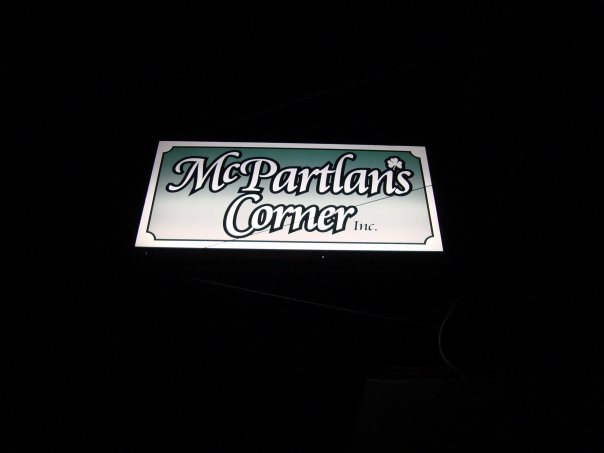 Louise A. McPartlan, with her husband James, opened McPartlan's Corner in 1955, and built it into the Western New York institution it is today. We are saddened to pass along the news that Mrs. McPartlan passed away Thursday at the age of 90. We send our condolences to her friends and family.
Bigger in Texas
Long before the current fashion for massive eating challenges, there was The Big Texan Steak Ranch of Amarillo, TX. Consume a four-and-a-half pound steak, shrimp cocktail, tossed salad, roll and butter, and baked potato in one hour or less and it's free (the woman who holds the record did it in less than five minutes!). Check out this Impulcity article on this meal and twelve other things that are bigger in Texas, from a giant pair of cowboy boots that light up to an enormous sculpture of a pecan.