A Morning Menu of LAF-Style Food News and Stories to Begin Your Day
Chicago Mix Now Garrett Mix
You may have noticed, if you are a Garrett popcorn aficionado, that over the last few months the company has taken to calling the combination of CaramelCrisp and CheeseCorn Garrett Mix, not Chicago Mix. Perhaps, like us, you assumed it was just a marketing decision. But there's more to it. Turns out there is a popcorn chain in Minnesota, Candyland, that had previously trademarked the name Chicago Mix, and they were in the process of suing Garrett's and two other companies over trademark infringement. The name change is part of Garrett's settlement with Candyland. For Candyland's sake we hope that Hasbro doesn't get any ideas.
Vermont Gifts for the Food Lover
It's getting down to the wire if you're still looking for gift ideas so, unless you live in Vermont, these food-themed Vermont gift suggestions may be moot. But there are some great ideas there; we recommend filing them away for the future. We've already raved about Wood's Cider Mill's unique boiled cider, but how about smoked maple syrup from Sugar Bob Hausslein of Londonderry? Or Oatmeal Stout jelly from Potlicker Kitchen in Waterbury? We can also vouch for J.K. Adams' quality maple cutting boards.
Decorate Your Own Gingerbread House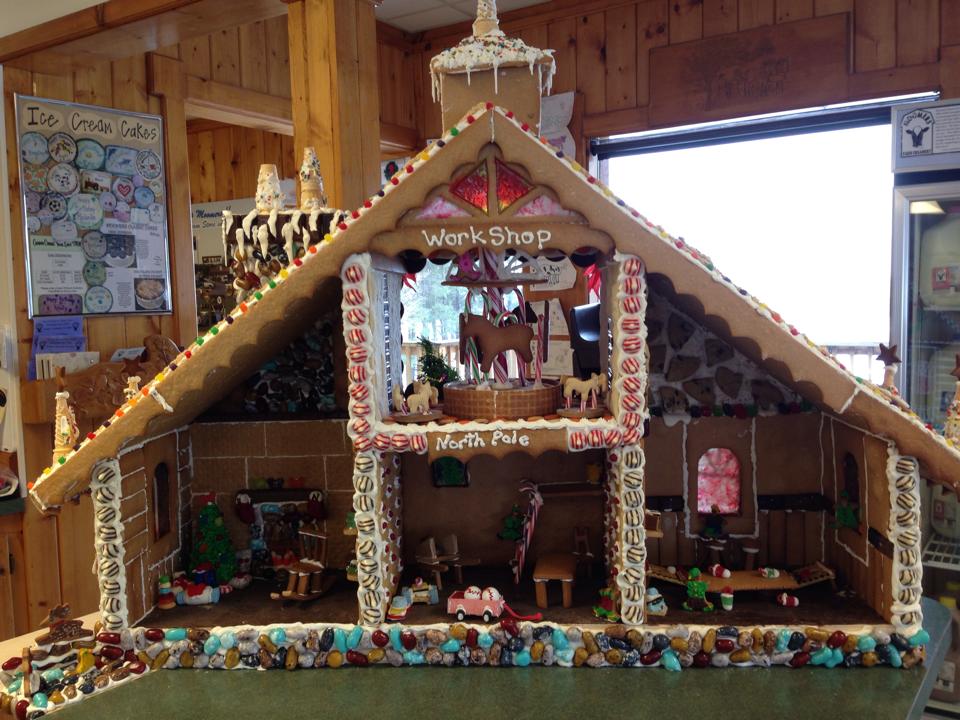 Moomers Homemade Ice Cream of Traverse City, Michigan bakes the gingerbread and provides the icing, candies, coconut, cookies, cereals, and anything else you might need to create your own Christmas masterpiece. They even give you a cone topped with their homemade ice cream and an ornament featuring a photo of your finished architectural work. All it takes is $20 and a reservation, which can be made through 3 p.m. Christmas Eve.
The Return of Cassell's Hamburgers
Al Cassell opened Cassell's Hamburgers in Los Angeles in 1948. For decades it was one of the prime go-to spots for burgers in LA but, as it approached senility, its reputation had suffered terribly. It finally closed in 2012 when the owners of the Normandie Hotel purchased the business, with a vow to move it into the hotel. Which is what's finally happening Monday, as Cassell's Hamburgers in the Normandie has its soft opening. The grand opening is January 15th.
Of course, these sorts of deals always amuse us. In what way does this have anything to do, really, with the original Cassell's? Normandie owns the name, and they are opening a burger joint, so they are legally entitled to call the burger joint Cassell's. Beyond that, where's the connection? Nonetheless, we wish them well, and hope they turn out a great burger.