REVIEW
There's something about dining within view of the ocean that stimulates the appetite for some local shellfish. And at Dentato's Clam Bar on the boardwalk, the shellfish is … well, we don't have a clue. We've never sampled any, and anytime we've been there we've never seen anyone else sampling any either. We've HEARD of people eating clams at Dentato's, and they may well be wonderful. But as long as they keep delivering one of the best Italian sausage sandwiches at the Jersey shore, those clams will just have to wait.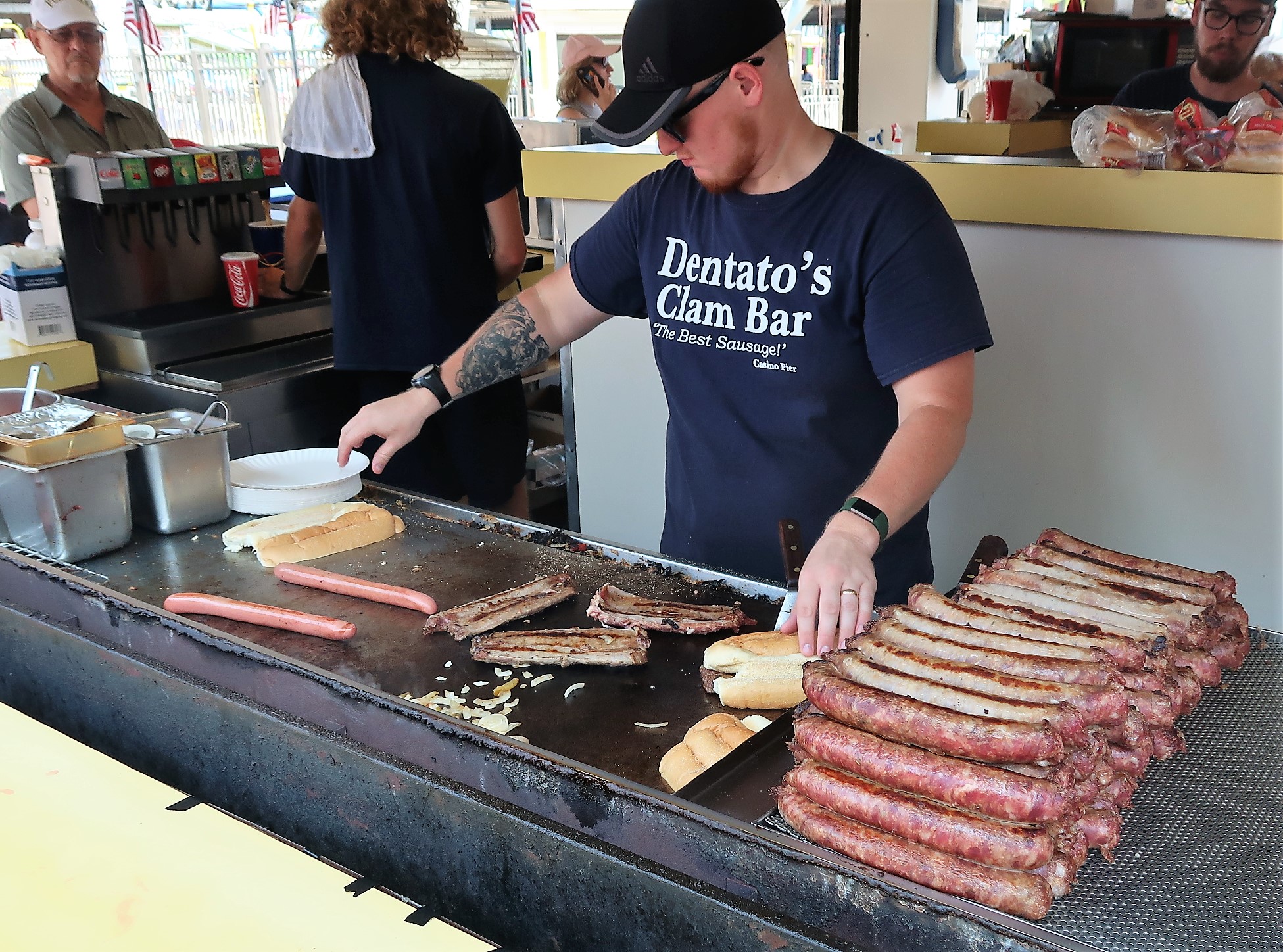 Dentato's hefty sausage is coarse-ground. They split it and give it a good grill on the flattop till it achieves a toothsome crustiness, and then it's inserted in a lightly grilled sub roll along with sauteed peppers and onions. There's a pot of red sauce simmering on the grill, and you can have a ladle of the stuff dragged across your sandwich if you like. It's not necessary. The sausage is mildly spiced, and the flavor that stands out is pork. Nothing wrong with that!
Sausage, peppers, and onions are the quintessential street food in the northeast, so unless you are a complete rookie you should have little difficulty consuming your sandwich on the stroll. But the boardwalk does get hot in the summer sun, so if you'd prefer to dine in shade, sitting down, Dentato's offers a covered, but open, area with picnic tables.

There's plenty more on the menu than Italian sausage and clams. We saw a fair number of cheesesteaks and footlong dogs emerge from grill area, and they looked fine to us, but we've yet to try them.
800 Boardwalk Seaside Heights NJ 08751 No phone No website
Dentato's Clam Bar on Facebook
LAF TRAK: 
FOOD: 
BEST THING TO EAT: Sausage sandwich