REVIEW
We first fell in love with Jim Lahey's pizzas at his Sullivan Street Bakery, back when it was actually doing business on Sullivan Street (it moved to Hell's Kitchen in 2000). We would devise any sort of pretext for passing by the bakery, where we'd stop in for a slice of his extraordinary potato pizza or pizza bianca. So we were thrilled when, in 2009, Mr. Lahey opened Co. (pronounced company), his first actual pizza shop.
Befitting a man who made his bones baking bread, Co.'s pizzas are for bread lovers. We don't mean to slight the toppings at all, it's just that these crusts are so extraordinary. And what better way to enjoy that crust than with the crust-only Pizza Bianca, topped only with olive oil and coarse sea salt. That's right, it's simply oiled and seasoned bread, but it captures everything that's right about pizza in our minds: ultra-thin crisp bottom, wavy, and irregularly shaped, moist and chewy within, with a rich wheaty flavor that never pales, enhanced by a slow rise. $3 more gets you a cup of gentle and creamy fresh ricotta, which we highly recommend, although we urge you to take your initial bites sans dairy.
Of course, pizza with actual toppings are also recommended. This isn't the sort of place where you pick from a menu of conventional options, like, "I'll have a pie with mushrooms, sausage, and extra cheese." No, the menu offers composed, single-serving pies (and like all single-serving pizzas, they are probably a little big for one appetite but too small for two).
We adore the Brussels sprouts pie topped with béchamel, mozzarella, parmesan, roasted chestnuts, lardons, red onions, and chili flakes in addition to the shredded green leaves. The Italiana combines finocchiona, a fennel-accented salami, with mortadella, spicy sopressata, tomato, fermented chili, red onion, oregano, mozzarella, provolone, arugula, red wine vinegar, and sesame seeds! Yes, some of the combinations sound unusual but, in our experience, they work. We've yet to hit a clunker.
There's a pretty fair selection of non-pizza items on the menu, things like bread, salad, meat and cheese plates, and a nice, warming bowl of that Tuscan bread and black cabbage soup called ribollita. The meatballs, made from veal, are juicy and homey, served in a dish of red sauce, with house-baked bread and butter on the side.
Seating is at both individual tables and long communal tables. Take your pick. Maybe with a view of the roaring fire (projected on a wall).
230 Ninth Avenue New York NY 10001 212-243-1105
Co.'s Website
Co. on Facebook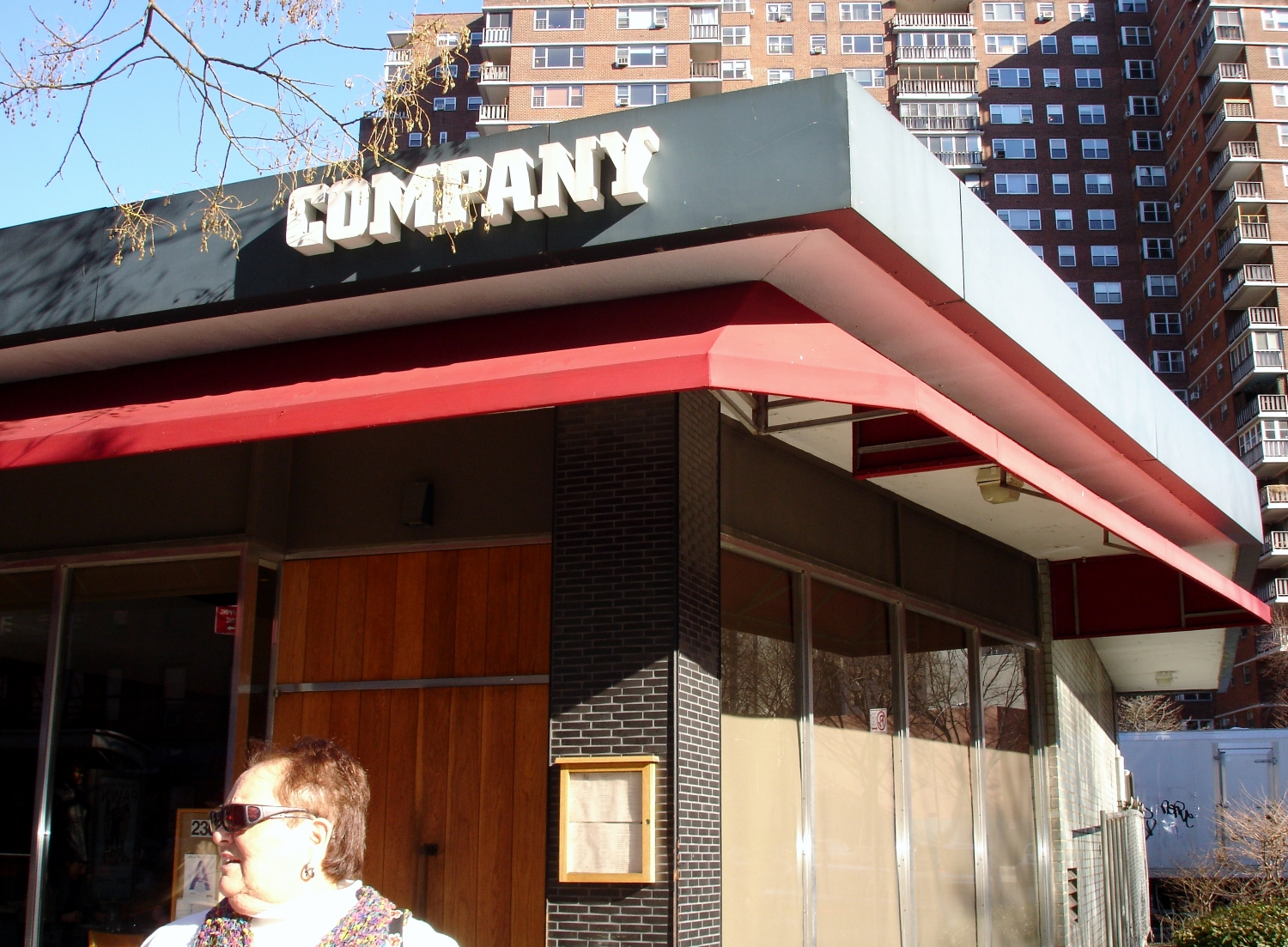 LAF TRAK: 
FOOD: 
BEST THING TO EAT: Pizza Bianca