Frank Pepe pizza was once the insider's choice for America's best pizza, unless that insider professed a love for their competitor down the street in New Haven, Sally's. Then the pizza renaissance happened. America discovered days-long dough fermentation, Italian double-zero flour, hand-made charcuterie toppings, the freshest of homemade cheeses. They took trips to Naples and wrote volumes on the science and art of "real" pizza.
Today, when folks discuss and write about America's finest pizzas, they tend to give Pepe and Sally  honorable mention nods but reserve their highest accolades for the obsessive pizza bros. Who can blame them? The modern pizza obsessives make extraordinary pies. You can find examples in almost any American city of decent size. This trend has had nothing but a positive effect on dining in America. We love it!
Be that as it may, when asked to name our favorite pizza, we still name Frank Pepe's. This is not out of some blind loyalty or crotchety stubbornness. There are aspects to a Pepe's pizza that we favor, and that Pepe's does best. Pepe's crust is brawny, salty, burnt, and still retains moisture within. Our jaws ache afterwards from the chew. The pies are oily and misshapen. The best food on earth, the Pepe's white clam, achieves a raunch and heady intensity that we've tasted nowhere else. Yes, we love Zuppardi's white clam, with their freshly opened clams, but we love Pepe's white clam more.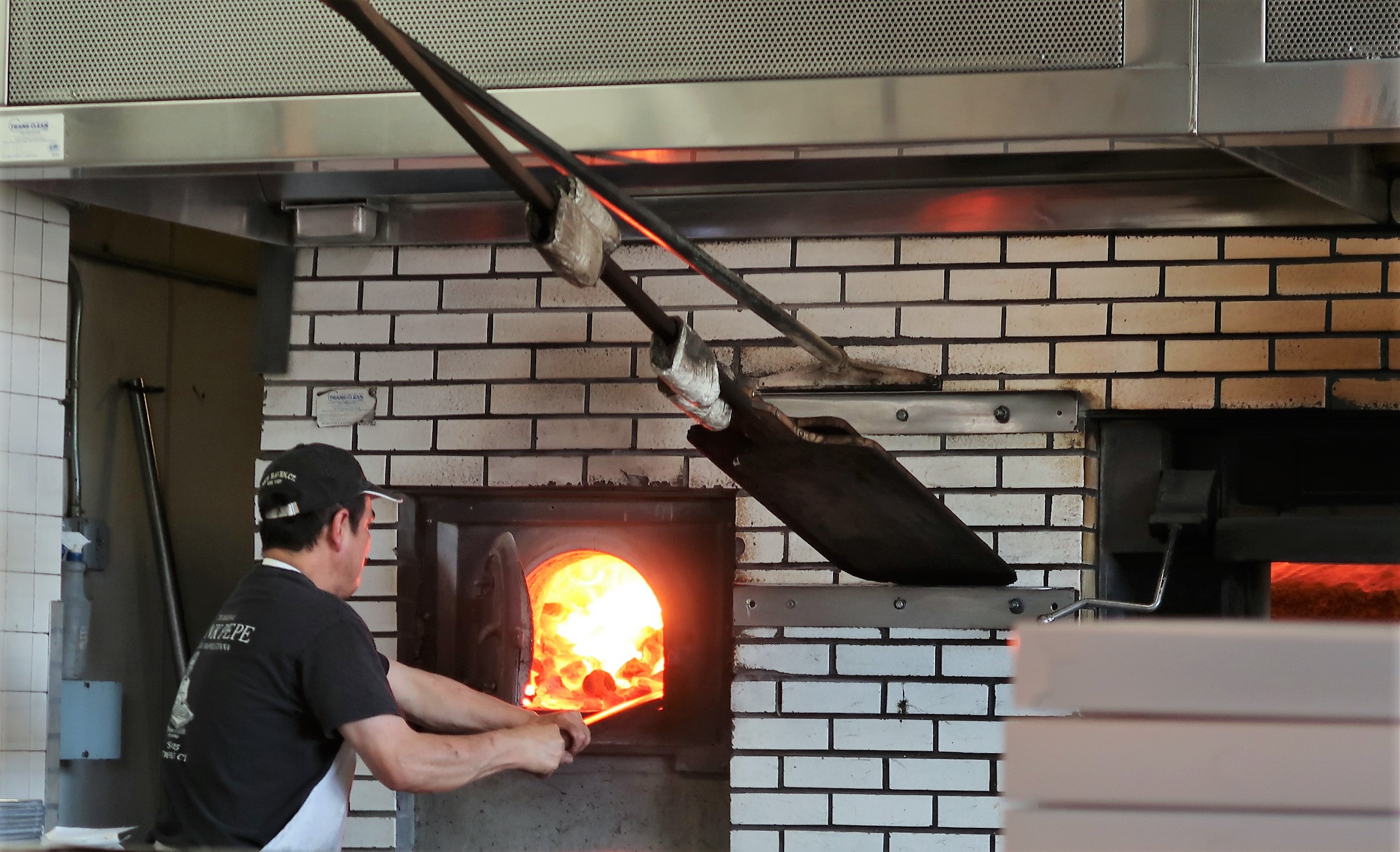 There are now 11 Pepe's Pizzerias in the Northeast: seven are in Connecticut, two are in Massachusetts, and there's one each in Rhode Island and New York. No, they are not all the equal of the original in New Haven (or the original original next door, The Spot). We haven't been to them all but the one that comes closest to New Haven is the Pepe's here in Fairfield. The Fairfield Pepe also offers a few advantages: it's a very short drive from the interstate exit, there's plenty of parking, even when there's a line it moves quickly because there's more seating, and much of that seating is at tables rather than booths (we are not fond of booths).
We happen to have one of America's great pizzerias within walking distance of our home. De Lorenzo is spectacular, and if we have not yet been there a thousand times we must be awfully close. We understand how lucky we are. Still… Pepe's, couldn't you open just one more pizzeria, somewhere in the vicinity of Robbinsville, NJ?
238 Commerce Drive Fairfield CT 06825 203-333-7373
Frank Pepe Pizzeria Napoletana's Website
Frank Pepe Pizzeria Napoletana on Facebook