The 41st annual Milford Oyster Festival, in Connecticut, begins Friday night (known as Oyster Eve) with four events: Party-All-Eve (live music, oysters, beer), Sail-All-Eve (schooner cruises), Ride-All-Eve (carnival rides), and Stroll-All-Eve (sidewalk sale). Saturday's Food Courts at Fowler Field and Lisman Landing will offer a wide selection, including foot long hot dogs, lobster rolls, crab cakes, corn on the cob, clam chowder, fried clams, fried oysters, fried shrimp, fresh clams, fried dough, crab rolls, and grinders.
But what you really want are oysters on the half shell, and plenty of them! The East Coast Shellfish Growers Association one recent year offered the following varieties : Down East Oysters from Maine, Scorton Creeks and Island Creeks from Massachusetts, Cedar Points, Salt Works, York Rivers, Olde Salts, and Chincoteague Salts from Virginia, Moonstones and Matanucks from Rhode Island, Mystics from Connecticut, and Saddlerocks from New York. What a selection! This year, you can expect 19 varieties from eight states.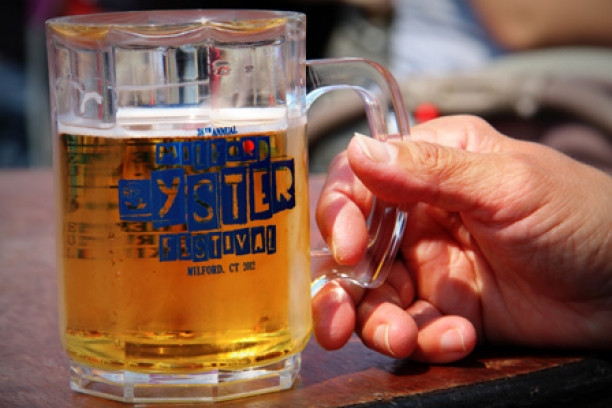 What else is happening at the festival? You can take a schooner cruise around Long Island Sound, there's a car and motorcycle show, children's entertainment, canoe and kayak racing, oyster eating and oyster shucking contests, an arts & crafts show, live music (headliners are Gin Blossoms), stunt bikes, bungee jumping, and a whole assortment of "big toys." See the Oyster Festival website for all the details.