The year was 1907. The town? Wilmington, Ohio. The place? Hazard's Restaurant. Owner Ernest Hazard wanted to attract Wilmington College students to his eatery by creating a new, irresistible dish. He held a contest among his employees, a contest which Ernest himself won by laying a split banana in a long dish, laying in three scoops of ice cream, topping the scoops with chocolate sauce, strawberry jam, and crushed pineapple, and crowning the dish with whipped cream, nuts, and cherries. Looking for a name, he asked his cousin Clifton for help. Clifton came up with banana split, and an American tradition was born.
Only trouble with the story? Latrobe, PA claims that David Strickler invented the banana split three years earlier at Tassel Pharmacy to attract student customers from the local Saint Vincent College. Wilmington's response? "We will not back down from our claim! Ohio Reigns Supreme When It Comes To The Banana Split!" To put a cherry atop their claim, they created a Banana Split Festival, the 22nd edition of which will take place this Friday and Saturday, June 10th and 11th.
The highlight of the festival, of course, is the make-your-own banana split booth! As you wait in line, you make your selections: one, two, or three scoops; chocolate, vanilla, or strawberry ice cream? They'll have bananas, naturally, and chocolate, strawberry, pineapple, and caramel toppings, whipped cream, nuts, and cherries. If you're a traditionalist, you have to go three scoops, one of each flavor, and three toppings (but not caramel), not placed haphazardly but rather one topping per scoop. The never-ending banana split debate has not been resolved: which topping goes on which scoop of ice cream?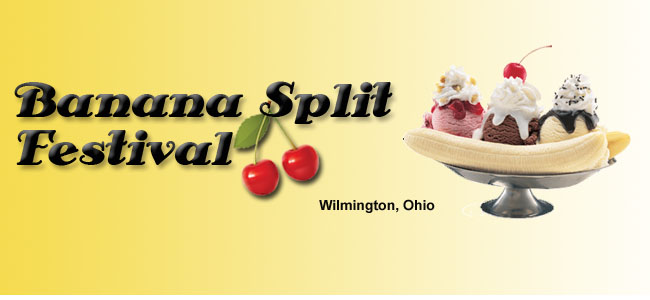 The festival begins at 4 p.m. Friday with live music, a cruise-in, and pony rides. Saturday begins with a 5K run and continues with music all day, a car show, a baseball tournament, and a banana split eating contest. Find out all the relevant details on the festival website.