REVIEW
We were faced with a tricky proposition: a bunch of us would be spending the day in Chelsea (a neighborhood in Manhattan) and wanted somewhere to hang out and get something to eat around 7:30 p.m. Oh, did we mention it was Valentine's Day? Not only is that holiday the ultimate amateur night for diners (special menus geared toward those who dine out once a year), but every table at every restaurant that could even remotely be considered romantic had been booked weeks in advance. We had to find the sort of place that no couple in their right minds would even consider visiting on the most romantic evening of the year. And so we did.
Do we need to tell you that The Trailer Park Lounge & Grill is a theme restaurant? Call us curmudgeons but we hate theme restaurants. That said, the Trailer Park actually managed to tickle something inside of us. Was it the giant paint-on-velvet Elvis? The VHS tape of Tonya Harding's porn film? The side of a trailer home mounted on one wall? Yes, yes, and yes.
Kitsch fans will have a field day roaming the premises in search of a new discovery while great classic rockabilly plays on the sound system, whether it's the old console tube TVs (actually, console sets with modern flat-screens hidden inside) playing '50s and '60s broadcasts or the ancient gas pump or beer signs. What's that? You say '50s kitsch and rockabilly is not the same thing as trailer park culture? Who cares?!
Pitchers of margaritas are big here, at big city prices. Paradise Hawaiian Style will take you back to the NYC days of the old Hawaii Kai, with three kinds of rum, pineapple brandy, and passion fruit juice, served in a hollowed-out pineapple with two straws. Jim Bob's IQ is blue. Canned beers include Schaefer and Rheingold.
The food menu is limited and focused. There are burgers, sandwiches, dogs, chili, mac and cheese, nachos, sweet potato fries, Tater Tots, and Moon Pies. And combinations of those items. That's it. Nothing we tried blew us away, though everything was quite alright (although the crunchy Tater Tots tasted a little fishy, and we love Tater Tots).
The burgers are fairly hefty, and more than decent. We tried ours in a configuration known, ambiguously, as the Mother-In-Law's Revenge (is that revenge the mother-in-law is taking out on the son-in-law or vice versa?). It's a chili cheeseburger with sliced jalapenos and sour cream and, unless you are truly getting in the spirit of things, it must be attacked with a knife and fork. The bean and ground beef chili is fine for what it is, and you can have yours as part of a chili mac or straight, in beef, turkey, or veggie versions.
Seeing as how we had Moon Pies waiting for us at home we skipped the Trailer Park dessert.
271 West 23rd Street New York NY 10011 212-463-8000
The Trailer Park Lounge & Grill's Website
The Trailer Park Lounge & Grill on Facebook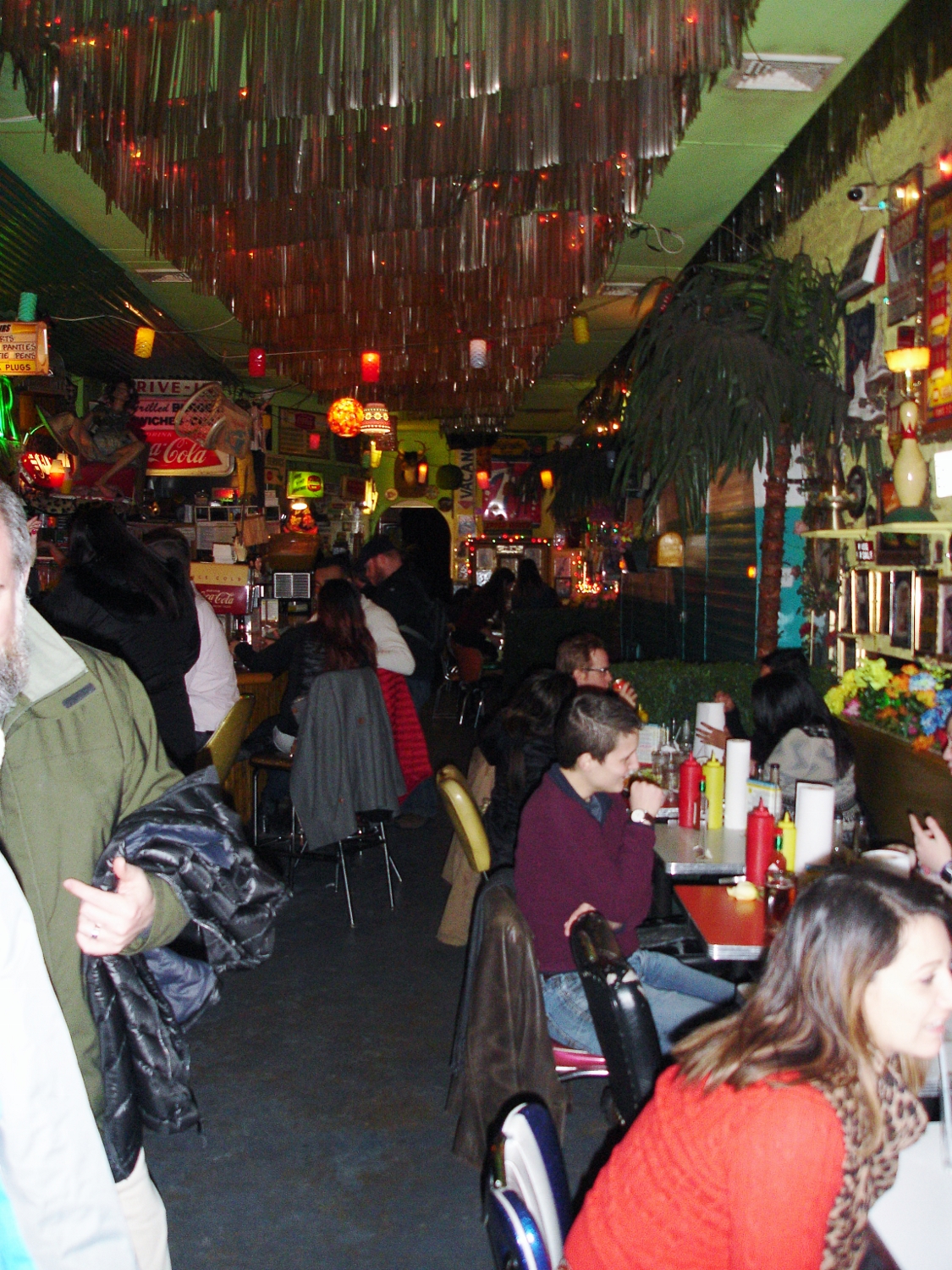 LAF TRAK: 
FOOD: 
BEST THING TO EAT: Mother-In-Law's Revenge