Those who love them look forward to spring with great anticipation. Many fans have a prized, secret spot for harvesting their own. Those who do not love them have probably never tasted them. We are talking about that honeycomb-headed mushroom known as the morel. This coming weekend, you can join the annual celebration of the fungus at the National Morel Mushroom Festival in Boyne City, Michigan, and maybe learn a thing or two about hunting them and cooking them.
If eating morels is your passion, there'll be plenty of opportunities for you to do so. The Morel Breakfast takes place Saturday morning. The centerpiece Taste of Morels event, at which  area restaurants and chefs provide morel-infused delicacies for $3 or less each, runs from noon until 3 p.m. Saturday.

Unfortunately, Friday evening's Wine & Dine at the Beach House restaurant is already sold out. You can contact them to see if there's a cancellation or, at the very least, you want to mark your calendar for next year. On the menu: morel ragout crostini, morel and ricotta pierogi, asparagus and morel risotto, morel, leek, and cheddar stuffed loin of pork, and grilled shrimp and morel soup shooters!
Want to learn how to cook morels? Cookbook author Ruth Mossok-Johnston will be giving a class Saturday afternoon. New to morel hunting, and want to learn more about it? There'll be a seminar on finding morels in the woods on Friday, followed by a guided morel hunt. Already a seasoned veteran? You can take part in a morel hunting competition Saturday morning.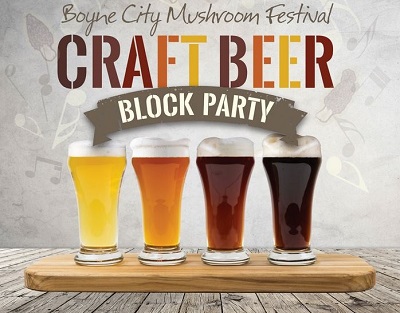 Thinking of attending with the mushroom averse? Let 'em know there'll be a carnival all four days, a craft beer party Thursday, a craft show, an open mic contest, a 5K run, and plenty of live music and dancing. And remember, "If it's reddish, you could be dead-ish!" For festival details, see their website.