A Morning Menu of LAF-Style Food News and Stories to Begin Your Day
HAPPY HOT-BUTTERED RUM DAY!
Today's Big Eddie Wilson Auction
Eddie Wilson, Austin, TX owner of the two Threadill's, is auctioning off over 600 pieces of memorabilia from his Armadillo World Headquarters collection. The bidding starts at 10 a.m. today. On-line bids will be accepted. There are neon signs, signed concert posters, five lots featuring Janis Joplin, hand-made boots, and the famous Armadillo World Headquarters Baby Grand Piano, played by Count Basie, Jerry Lee Lewis, Fats Domino… Good luck!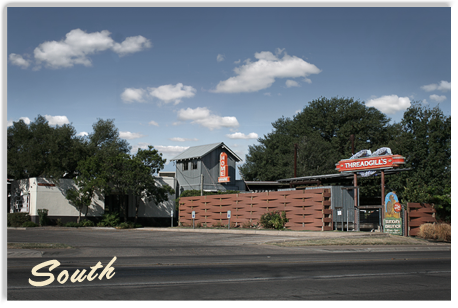 Why is Eddie selling all this stuff? He says it's to raise money for a Threadgill's he wants to open in New Zealand when he retires, and to help in the move of the Threadgill's on West Riverside Drive to a new location. Mr. Wilson says the land beneath his restaurant is just getting too expensive for him to remain there much longer. He's still looking for a suitable location.
Wheel Inn of Cabazon, Closed Over a Year, Facing Possible Demolition
Claude Bell opened the diner Wheel Inn in Cabazon in 1958. The Wheel became known for chicken-fried steak and peanut butter pie, and also for dinosaurs. Mr. Bell built giant-sized dinosaurs on the property to go hand-in-hand with his eatery, creating a popular tourist attraction. In late 2013, the Wheel Inn closed. They've been trying to sell it, but over the intervening months the building has fallen into such a state of disrepair that real estate people now say the best option may be to demolish the Wheel and simply sell the property. The Cabazon Dinosaurs next door, however, are under separate ownership, still operating successfully. They are in no immediate danger.
Camp Brisket
Can you imagine attending a two-day seminar on preparing smoked brisket, Texas-style, with the likes of Aaron Franklin and Wayne Mueller? Yes, it sounds like a barbecue fanboy's fantasy, but Camp Brisket is for real. The third annual event was held last week at Texas A&M. This is a serious study of barbecue, not a tourist event, and features in-depth demonstrations and panels (and taste tests). Cost for this year's camp was $495 for Foodways Texas members, and $550 to the public. Tickets go on sale to members in August so if you're interested in stepping up your game and attending next year you may want to check into joining.
4 Atlanta Chefs Pick Their Favorite All-Time Burgers
We love to hear about the things big-time chefs eat when they're off the clock. They can get as down and dirty as the rest of us (quite often even more so), but do seem to be more discerning than most of us. So when they talk, we listen. Atlanta Magazine asked four of their city's finest chefs for their burger favorites, and the results ranged from Sonic to the $18 burger at Gramercy Tavern in New York City.