A Morning Menu of LAF-Style Food News and Stories to Begin Your Day
HAPPY NATIONAL CHOCOLATE FONDUE DAY!
North Carolina Sandwiches
The North Carolina magazine Our State is running a bracket competition to determine the state's favorite sandwich. There are 16 entries in the competition, and while some of them, like the BLT and Fluffernutter, aren't particularly regional, a few of the sandwiches are hyper-regional, found exclusively in one small region of the state.
Have you ever heard of the ground steak sandwich? Sounds like it might be one of those bunless burgers served in steakhouses, but a Carolina ground steak is something else. The ground beef is cooked loose and pebbly, then drained. It's thickened with a milk or water and flour slurry, then placed on a buttered bun with slaw, tomato, chopped onion, and mayo. The sandwich is available only in and around Mount Airy (spiritual home to The Andy Griffith Show).
Here's another new one to us: the collard sandwich. This is a soul food specialty that apparently is found at home and festivals more than in restaurants. Finely chopped, well-cooked collard greens are placed between two pieces of fried-crunchy cornbread. Also between the bread are a couple of pieces of cooked-crisp fatback. Sounds really good to us!
Zimmern Does Boston
Andrew Zimmern's new series uses his bizarre brand in the title, but the food he's focusing on is anything but bizarre. This time around he's showcasing the iconic foods of a region or city. In Boston, he's enjoying clam chowder at Union Oyster House and baked beans at Durgin-Park. Union Oyster House? "Do they have the best clam chowder in town? Absolutely not. Do I still go there and have clams on the half shell and eat a cup of chowder? You bet. I like to stand at the bar where Daniel Webster sucked down oysters and clams. I want to breathe the same air that people have been living and breathing in that place for hundreds of years." Read a Boston Globe interview with Andrew here. As a bonus, you'll find some of his more cutting edge Boston choices at the end of the interview.
Green Dragon of Ephrata Begins Rebuilding
A fire destroyed a large piece of the Green Dragon Farmers Market last fall. They managed to reopen a couple of weeks later but the fire left a gaping void in the market. The latest word has the Green Dragon beginning work in March on replacing the historic old barn that burned down. They won't try to reproduce the wooden barn; the new structure will be masonry and steel. They expect the work to be finished this spring.
How Does Shake Shack Do It?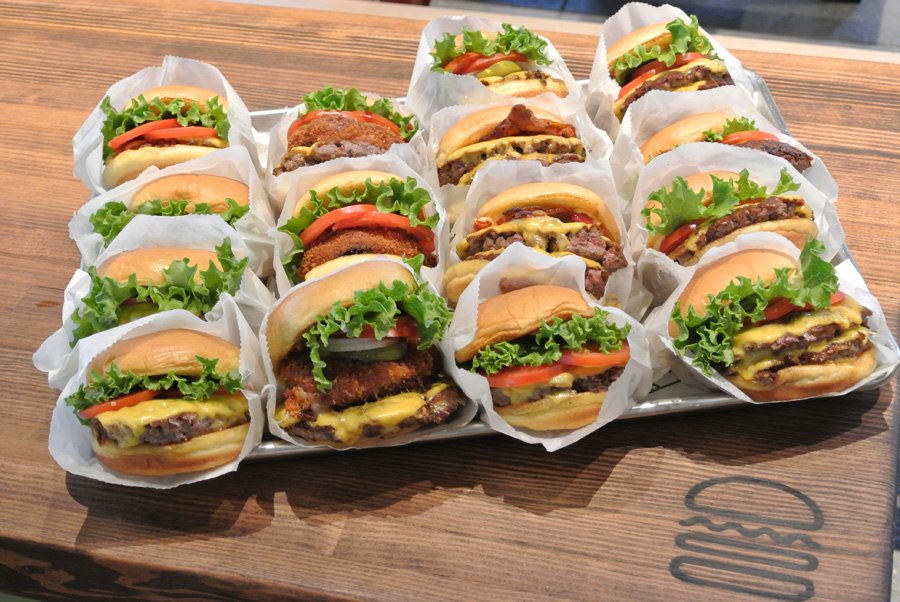 Shake Shack, started as a single cart in a New York City park,  just completed a hugely successful IPO. How do they do it? Why do folks love their burgers as much as they do? Esquire presents their theories. Brown crust, salty burger, top-quality meat, an attempt to perfect the burger, not reinvent it… read the story here.