A Morning Menu of LAF-Style Food News and Stories to Begin Your Day
Homemade Cinnamon Rolls and Much More
Three women stopped by The Maltby Cafe in Snohomish, WA regularly after soccer practice in the 1980s. When they saw a for sale sign go up, they bought the place. That was in 1988. Since then, the Maltby has become one of the region's most popular breakfast spots. KCPQ stopped by The Maltby Cafe recently, producing three segments focusing on various aspects of the restaurant. Part one is a visit with a longtime cook:
Part two is our favorite of the three, where you get to see them make their famous cinnamon rolls:In part three, they speak with some customers:

Shake Shack London
Shake Shack will be opening their second London location around the middle of next year. The new Shack will be located in Stratford in East London. The menu will feature Scottish beef and Cumberland sausage. Sounds as if more London Shacks are in the works.
An Old-Fashioned Jewish Christmas!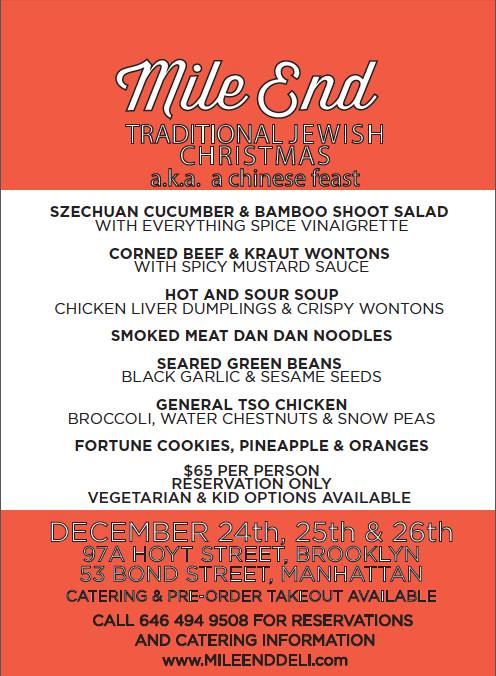 As every New York Jew knows, Christmas is as ritualized for Jews as it is for Christians. There are two essential ingredients in the making of an old-fashioned Jewish Christmas: Chinese food and  a movie (really, that should be "going out to the movies" as opposed to watching one at home, the point being that there are no crowds).
Mile End in New York City is presenting an interesting twist on the meal: a prix fixe Chinese meal with a definite Jewish accent. There'll be corned beef in the wontons, chicken liver in the hot and sour soup dumplings, and Montreal-style smoked meat (as good as any corned beef or pastrami in the city) on the dan dan noodles. We recommend calling ASAP for reservations. You're on your own for the movie.
Philly Pork, Provolone, and Spinach To Go… Six Feet Down
We're dying to have a juicy roast pork, sharp prov, and spinach sandwich right now! From John's Roast Pork in Philadelphia, if possible. When we say "dying" we mean that figuratively, of course. It's a great sandwich and all, but… well, apparently there are (or to be more precise, were) bigger fans of John's out there. Read the story at Philly.com.