How do you know horseradish? Probably in more ways than first occurs to you: Bloody Marys, seafood cocktail sauce, horseradish sauce for roast beef sandwiches (or even Arby's Horsey Sauce?), maybe the beet-dyed grated root that helps you force down a piece of gefilte fish once a year. Most American sushi lovers have also eaten plenty of the stuff because, except at the most high-end sushi parlors, the wasabi is made from horseradish rather than the far more rare and dear real wasabi. Why not expand your horseradish horizons this year by attending the International Horseradish Festival in Collinsville, IL?
Festival organizers favor the applications of those food vendors who incorporate the pungent root into their offerings. While it's impossible to say ahead of time what treats you'll encounter at the fest, previous editions of the horseradish party have featured barbecue nachos with horseradish chipotle mayo, horseradish-topped pizzas, horseradish tenderloins, horseradish wings, horseradish ribeyes and, of course more varieties of Bloody Marys and jars of prepared horseradish and horseradish sauces than you ever imagined possible.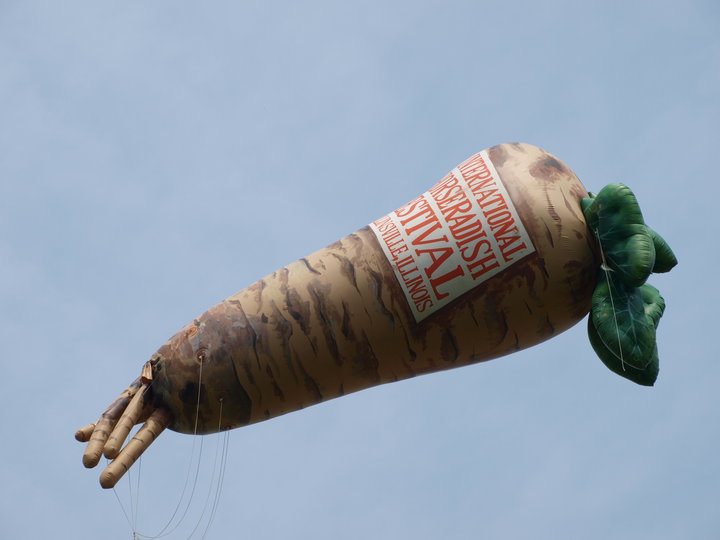 The horseradish theme continues with the planned events: there's a horseradish toss, a golf contest with a ball carved from the root (!), and a root sacking contest. Contestants will compete in a recipe contest (must contain a "notable" quantity of horseradish) and a Bloody Mary contest. There'll be root grinding demonstrations as well. Enjoy live music and clogging while you're there; as far as we can tell, the performances do not involve horseradish. Finally, as the festival organizers claim, no horses will be harmed in the making of this festival. See their website for details.